Nothing tempts us more than the combination of holidays and BBQ; when it's Christmas, it becomes even more special! 

The festival, full of lights and surprises, comes with the great responsibility of preparing something unique yet delicious for all. But if you are stuck with the BBQ food list, don't worry! As the winter season is here, we are here to guide you with lip-smacking BBQ recipe ideas. 

This Christmas BBQ guide will ensure your festive jingles and people always remember the taste of your hands. 
BBQ Ribs With Chive Dip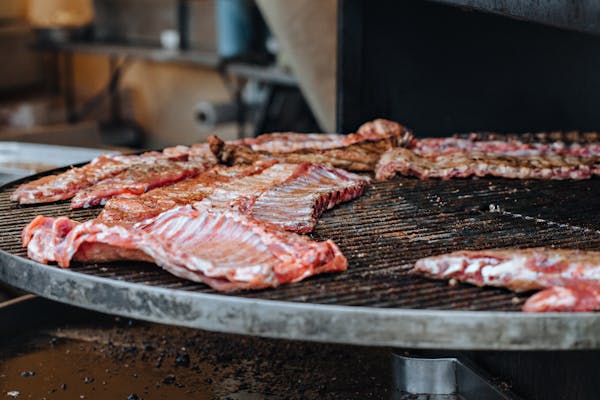 BBQ and ribs are famous combinations that people love to eat frequently. And today, we have come up with a sizzling twist to this recipe. We have added lip-smacking chive dip, which will enhance the flavor of grilling ribs and the smoky flavor of BBQ. 
Ingredients 
2 racks of baby back pork ribs
2 spoons of a toasted sesame seed (optional)
8 spoons of soft brown sugar
2 spoons of Worcestershire sauce
1 spoon of paprika
2 spoons of salad cream
6 spring onions, sliced
2 cans cola
8 spoons of tomato ketchup
2 spoons of soy sauce
2 spoons of sweet chili sauce
300ml pot half-fat soured cream
Small bunch of chive snipped
Directions
Preheat the oven from 160 C to 140 C and carefully fit the ribs in the roasting tin.
Now pour enough water to fill the tin and cover the ribs. 
Cover the tin with foil; make sure it is tightly covered.
Now roast the ribs for 2-3 hours while turning them halfway through. 
Make sure you roast until the ribs get tender with texture and it is not falling apart. 
Simultaneously, put all (tomato ketchup, soft brown sugar, soy sauce, Worcestershire sauce, sweet chili sauce, paprika) sauces in a separate saucepan. 
Now gently heat the pan until it bubbles for at least 2 minutes, and then stir. 
Once the ribs are done, carefully lift the tins and let them sit on paper until it gets dry. 
Then tip the liquid away and clean the tin by wiping it down. 
In the next step, please put all your dry ribs back in the ribs and coat the sticky sauce all over them. 
Now cover the tin again and allow it to chill for at least 1 hour for the marination (to achieve better results, chill it for 24 hours).
Now mix the dip ingredients (half-fat soured cream, salad cream, bunch chive, snipped, spring onions) and chill until these ingredients are ready to serve.
Now heat the barbecue and wait until the flames lay down. 
Add ribs and cook it for 20 minutes. Turn it occasionally so that it cooks from all sides. 
Make sure you apply the remaining sauce.
Once you feel the ribs are sticky, crispy, and hot on the inside, evenly slice them. 
If you like sesame seeds, you can top them up with scattered seeds and plate them with the remaining sauce. 
Warm the ribs and serve them with chive dip. 
Char Siu (Chinese BBQ pork)
This multipurpose recipe can be eaten with rice and noodles or can also be used as the main ingredient of your forever favorite cha siu baau. But apart from a traditional recipe, we have developed a twist on BBQ pork. It complements the char siu so beautifully that it will enhance the joy of smoked Christmas dinner.
Ingredients 
700-gram rindless pork belly
Piece of ginger, peeled and finely chopped
4 spoons of hoisin sauce
2 spoons of dark soy sauce
2 spoons of sunflower oil
4 fat garlic cloves, finely chopped
4 spoons of tomato ketchup
4 spoons of golden caster sugar
2 spoons of rice vinegar
Pickled carrot
4-5 spring onions, thinly sliced (diagonal) 
6 spoons of wasabi mayonnaise (alternative – 6 spoons of mayo mixed with 1 spoon of wasabi paste)
Directions
Put the pork in a roasting tin.
Tip over the marinade ingredients and massage the pork with your hands or spoon to coat the mixture. 
Now cover the pork and let it rest overnight.
In the next step, heat your oven or gas at 140 C to 160 C.
Then cover the tin with foil and let the pork cook for at least 3 hours. 
Make sure you are basting it every hour.
Now increase the temperature of the over by 160 C to 180 C. 
Remove the foil paper and baste the pork evenly and let it cook for another 45 minutes. 
Once you notice the ends are getting caramelized from the edges, remove the pork and let it rest for 20 minutes. 
Simultaneously, remove the fat from the tin while transferring the BBQ sauce to a small pan. 
Now slice the pork and transfer the slices into the tin. 
Once the sauce is warm in the pan, pour it over the meat and toss it evenly. 
Next, spoon the pickled carrot, and spring onions along with a dollop of wasabi mayonnaise into hot buns. 
Vegan BBQ Teriyaki Tofu
As we mentioned, there is something for everyone. Impress your vegan friend with this merry Christmas BBQ recipe. To make this simple recipe, you will only require 10-15 minutes of preparation, and you are good to go! 
Ingredients 
4 spoons of low-salt soy sauce
pinch ground ginger
3 spoons of sesame oil
Half spoons of rapeseed oil
200 gram tender stem broccoli
2 spoons of soft brown sugar
2 spoons of mirin
350-gram block of tofu cut into thick slices
2 courgettes sliced 
Black & white sesame seeds 
Directions
Mix the soft brown sugar, soy sauce, mirin, and ginger with sesame oil (1 tablespoon).
Brush this mixture over each slice of tofu.
Put these tofu slices in a large and shallow dish and pour the leftover marinade. 
Now let it sit and chill for at least one hour. 
Now heat the barbeque until the coal glows white.
Now mix the leftover sesame oil with rapeseed oil. 
Evenly brush the broccoli and courgettes slices. 
Take these slices and barbeque them over coal for 7-10 minutes. 
Cook them until they become tender, then keep them warm but away from heat.
Next, barbecue the slices of tofu over the coal for at least 5 minutes. 
Cook them until it turns golden brown or has crisp edges. 
Before serving, lay down the veggies on a plate, place the tofu, pour the remaining marinade, and scatter the sesame seeds.
Squid Salad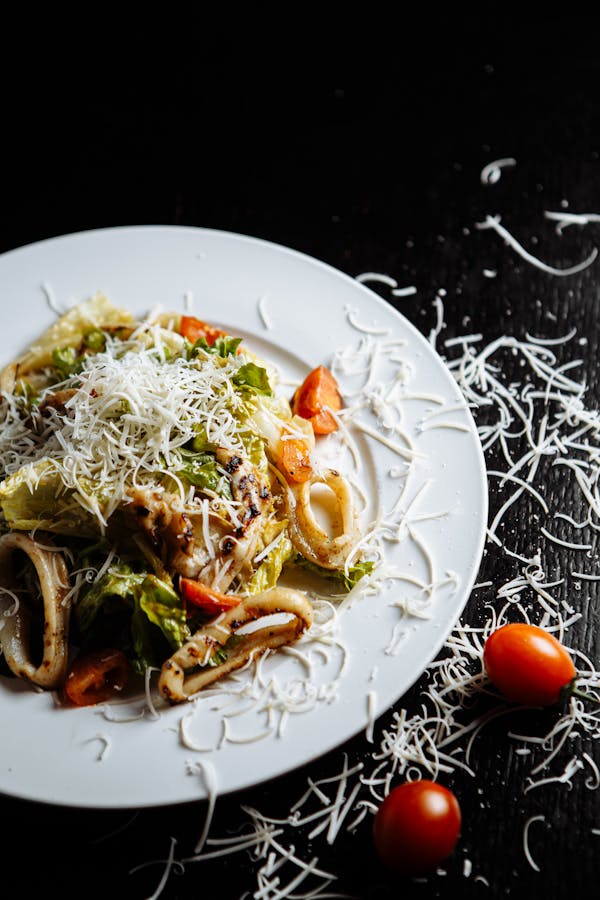 How can we forget about the salad? They are most loved! But here, we have infused the healthy salad with barbeque squid, adding more nutrition to your BBQ food list. 
Ingredients 
800 gram freshly prepared squid
2 tablespoons of extra virgin oil (olive) 
1 and a half tablespoon mixed peppercorn
One large mango, cut into small chunks
400-gram black bean 
small pack coriander leaves only, torn
zest 3 limes 
1 large red onion, finely sliced
One large red chili, finely shredded 
3 ripe avocados
extra virgin olive oil for drizzling
3 garlic cloves, smashed flat
Directions
Preheat the barbecue. 
Simultaneously marinate the squid for a minimum of 30 minutes to 4 hours.
Make sure you slash the squid tubes at 5mm – 1cm on each side. 
Clean and cut the flesh but keep the sides intact. 
Then put it in a non-metallic bowl along with other squid ingredients and allow it to marinate. 
For the salad, make sure you toss – chilies, onion, and mango with lime juice and a pinch of adequate salt. 
Now wait for 10 minutes or until onions become pinkish.
Now add beans to one side. 
In the next step, scoop the avocado into your salad bowl. 
Add seasoning with squid with sea salt.
Please make sure the flesh changes its color from grayish to opaque while it shrinks into a spiral shape.
Now toss the salad ingredients roughly and pile them on a platter and top the recipe with coriander and hot squid. 
In the end, drizzle the recipe with virgin olive oil along with lime wedges. 
Vegan Pulled Jackfruit
You may be surprised, but you can prepare jackfruit with BBQ. This will enhance your tangy taste buds and bring uniqueness to your BBQ food list. 
Ingredients 
1 spoon of vegetable oil
1 spoon of ground cinnamon
2 spoons of smoked paprika
1 spoon of apple cider vinegar
200 gram can of chopped tomato
1 red onion, finely chopped
1 spoon of cumin seeds
2 spoons of hot chipotle sauce
4 spoons of BBQ sauce
2 x 400-gram cans of young jackfruit in salted water
Directions
Take a frying pan, and heat oil in it. 
Take some onion and cook it for at least 10 – 15 minutes or until it becomes soft. 
Now take the cinnamon, paprika, and cumin and add them to the onions; now cook it for another 2-3 minutes.
Now add the hot sauce with BBQ sauce and vinegar and give a good mix.
Then add tomato and drained jackfruit along with water (200ml). 
Now leave it to simmer gently, make sure it is covered, and cook it for another 30 minutes. 
Stir the mixture in every 5 to 10 minutes.
After that, open the lid and cook it for another 10 minutes.
Once it is properly cooked, check whether you can shred jackfruit with a fork or not. 
Check the seasoning and if required – add another tablespoon of BBQ sauce. 
Conclusion 
This BBQ food list will hardly take your effort but result in something unique and delicious for the Christmas menu. And as we have prepared this list keeping the different dietary preferences in mind, you can prepare something for everyone with this guide. 
Even if you are a beginner, this guide can teach you some pro tips to keep up your grilling game. 
Latest posts by John Rinder
(see all)