Summertime and BBQ just go together! What's not to love about grilling some delicious food outdoors with family and friends? Whether you're grilling in the backyard or tailgating at a game, these bbq recipes are sure to be your new go-tos.  
From classic burgers to pulled pork and grilled chicken, we've got all your bases covered. And for sides, we've included a few of our favorites: ribs, and salads. So, fire up the grill and get cooking! 
BBQ Pulled Pork  
Summer bbq is incomplete without bbq pulled pork! 
BBQ pulled pork, when cooked slowly, becomes sumptuously tender-making it ideal for serving with a crunchy slaw. It's one of the most loved bbq recipes. To cook this delicious meal, you'll need:  
Onion  
2.2 kg boneless pork shoulder  
1 ½ tbsp. Smoked sweet paprika  
2 tsp sea salt  
1 tbsp. English mustard powder  
And for bbq sauce, you'll need:  
1 small apple, core discarded  
½ onion  
1 red chilli  
40 g brown sugar  
150 ml cola  
2 tbsp. soy sauce  
4 tbsp. Cider vinegar   
250g tomato ketchup.   

Method:
Heat the oven to mark 2 at 150°C (130°C fan). Place the pork, skin side up, on top of the onion slices in the bottom of a deep casserole dish with a lid.   
Combine the paprika, mustard powder, salt, and sugar in a small bowl, then rub it all over the pork.   
To make the pork softer, add 250ml (9 Fl oz) of water to the casserole, cover with the lid, and cook for 412 to 5 hours (it should pull apart easily with 2 forks).   
Make the barbecue sauce in the interim. Mix all the ingredients and heat to a boil in a small pan.   
When occasionally stirring, boil for 15 to 20 minutes or until reduced and thickened.   
Remove the meat to a board with care. Cook for 45 minutes, flipping gently and adding additional sauce a few times while cooking (if possible).  
Pork skin and most of the visible fat should be removed and discarded. Use two forks to shred the meat. Toss the food in the remaining sauce to coat. Served with coleslaw and bread.  
Slow Cooked BBQ Ribs  
Nothing can taste as fine as slowly cooked ribs!
The slow cooker will do all the work for you while you enjoy time with your family outdoors. The ingredients you need for this lip-smacking bbq recipes:   
1.5kg pork spare ribs  
2 tbsp. finely chopped chives  
1-star anise  
1 large red chilli, sliced into rings  
500 ml apple juice  
250 ml barbecue sauce  
Method:
Place the spare ribs in the slow cooker by adding chilli, star anise and barbecue sauce. Add cold water to cover the ribs. Then, cover it with a lid and cook for about 6 hours.  
Cook ribs on the barbecue for 20-25 min, occasionally turning until it looks crisp and char. Read how to smoke ribs to cook ribs as a chef would cook.   
Alternatively, if using a slow cooker, drain the cooking liquid before adding the barbecue sauce and flipping the ribs to coat. Cover with a lid and heat the sauce for 30 minutes on high.   
 Your BBQ mouth-watering meal is all ready to be served!  
Curried Pork and Orange Kabobs  
This combo bbq grill is perfect for summer when you want something plentiful yet inexpensive. To cook this luscious meal, all you need is:  
1/2 cup canola oil  
1 large unpeeled navel orange  
1 large sweet yellow or orange pepper  
1 small onion  
1 large sweet red pepper  
1-1/2 pounds of pork tenderloin  
1/2 teaspoon each ground cumin, coriander and cinnamon  
1 to 2 tablespoons curry powder  
1 garlic clove, minced  
2 tablespoons dried minced onion  
Method:  
Mix oil, minced onion, garlic, and spices in a small bowl; set aside half of the mixture for basting kabobs while they cook. Slice the orange, peppers, onions, and pork into 1-inch chunks. Alternately thread pork, vegetables, and orange on four metal or soaked wooden skewers. Brush with the remaining curry sauce.  
Kabobs should be covered and cooked for 10 to 15 minutes over medium heat, regularly flipping until the veggies and pork are soft. During the final 4 minutes of cooking, baste the reserved curry mixture regularly.  
Check out how to bbq, if you do not know how to cook on a grill.   
BBQ Chicken Burger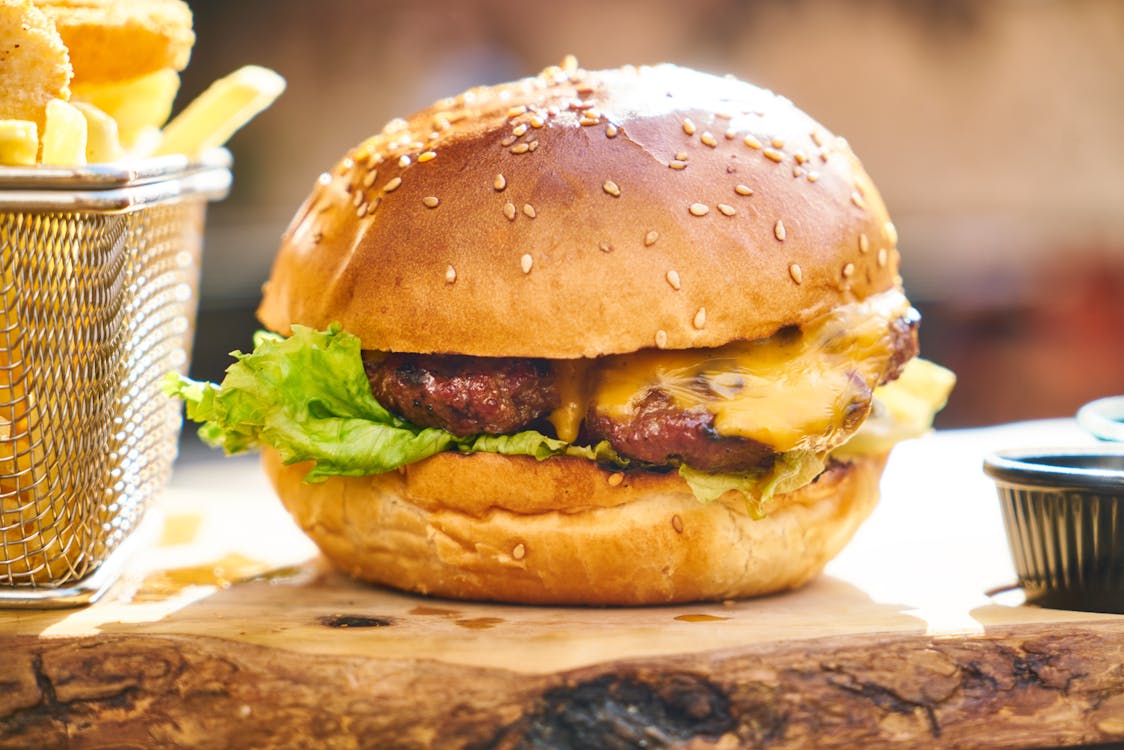 BBQ chicken burger is an all-time favourite! It's a classic bbq recipes that can be cooked in no time. Plus, it's a yummy meal that almost everyone loves! All you need is:  
4 skinless, boneless chicken breasts  
Lettuce, tomato and red onion to serve  
4 large burger buns, sliced in half  
4 rashers bacon (optional)  
For the sauce and marinade :
4 tbsp tomato ketchup  
2 garlic cloves, crushed  
4 tbsp brown sauce  
2 tsp clear honey  
splash chilli sauce (optional)  
Method:  
Combine the ingredients for the sauce and marinate in a large bowl, then set aside a few Spoonfuls. Each breast should be cut in half at its thickest point, then opened like a book. With your hand, slightly flatten the pieces, and then toss them in the marinade bowl to coat.  
Cook the chicken on the grill for 10 minutes or so, flipping it occasionally to prevent burning and achieve a nicely browned, sticky exterior. If using, cook the bacon until crisp at the same time that you toast the buns. Put lettuce, tomato, onion, and the saved sauce on the side for drizzling on top as you assemble the burgers.  
Enjoy mouth-watering BBQ chicken burgers with your foodie friends!  
Griddled Nectarine and Feta Salad  
Sweet and salty- a salad can taste completely like any main BBQ meal.  
Cookbooks for bbq recipes are filled with salads but finding the one that is delicious and healthy is tough. So, to help you out, we've found a salad that is easier to cook. Plus, it's delicious and healthy. Griddled Nectarine and Feta Salad is sure to please any BBQ lover. Making a salad is easier than you might think! Follow the process given below, and you're all set! The things you need to make this salad are:  
3 tbsp. olive oil  
50 g walnuts, toasted and roughly chopped  
200 g feta, roughly crumbled  
140 g rocket  
4 ripe nectarines, de-stoned and quartered  
1 tbsp. balsamic vinegar  
1/2 tbsp. runny honey   
Method:  
Mix the oil, vinegar, honey, and a generous spice to make the dressing. Place it aside.  
Grease your griddle or barbeque grill's bars sparingly. Nectarine slices should be barbecued or grilled over high heat for 5–6 minutes, carefully turning the fruit halfway through with tongs and, if necessary, a palette knife or thin spatula.  
Place the rocket on a big dish, then add the feta, nectarines, herbs, and walnuts.   
Serve the salad by dressing it with a drizzle to give it a more delicious look!  
Surf 'n Turf Foil Packs  
Put a few of these bad boys in the coals at your next outdoor bbq gathering and spend time with your buddies. Once you get your ingredients prepared, all you have to do is 15 minutes of grilling. To make this luscious bbq, you'll need:  
1/2 lb. sirloin steak, cut into 1″ cubes  
Lime wedges, for garnish  
2 cloves garlic, thinly sliced  
Freshly ground black pepper  
1 tbsp. fresh thyme leaves  
1 tbsp. freshly chopped parsley, for garnish  
1 tbsp. Old Bay Seasoning1 tsp. ground cumin  
1 lime, sliced into wedges  
1/2 lb. shrimp, cleaned and deveined  
2 ears of corn, each cut crosswise into 4 pieces  
1 c. grape tomatoes  
1 small red onion, cut into thick slices  
Method:  
Cut 4 foil sheets 12 inches long and heat grill to high.  
Divide corn, garlic, lime, onion, tomatoes, shrimp and steak each foil pack. Drizzle each with oil and sprinkle it with cumin, thyme, old bay and black pepper.   
To completely cover the food mixture, fold each foil crosswise.   
Place the foil packs gently on the grill. Ensure the grill is cleaned properly, so the meal is cooked properly.   
Now cook until the shrimp is cooked (6-8 minutes per side).  
Serve the delicious Surf 'n Turf Foil Packs with lime wedges and garnishes with parsley.   
BBQ Grilled Pizza  
Summer is all about enjoying the outdoors and being away from the oven. But, what do you do when the pizza craving kicks in? Well, we've got a solution for you. Cook a pizza outdoors on grills, coals or whatever you have. All you need is:  
8 oz. pizza dough  
Freshly chopped basil for serving  
Extra-virgin olive oil for brushing and drizzling  
1 large tomato, thinly sliced1 c. ricotta  
Pinch of crushed red pepper flakes  
1 c. cherry tomatoes, halved  
1/2 lb. thinly sliced mozzarella  
Method:  
Grill to a medium-high temperature. Pizza dough should be divided into two balls, each of which should be stretched into an 8″-wide circle using your hands. Place immediately on the grill grates after brushing oil onto both sides. 
Cook for 1 to 2 minutes or until the bottom is browned, then flip. Top the crust right away with half the cheese, the tomatoes, and the ricotta, and bake for another minute or so, or until the bottom of the pizza is brown. Use the leftover dough to repeat. 
Serve it by topping it with basil, red pepper flakes, and a drizzle of oil.  
Conclusion 
It's that time of the year again to get your hands on these delicious bbq recipes!   
It doesn't matter if you're cooking outside on a grill, charcoal or pallets. The only thing that matters is that you're enjoying your summer outside with your buddies! 
Latest posts by John Rinder
(see all)