Looking for the best and cheap grilling ideas to try this season? Grilling foods are delicious, but grilling does not need to be expensive or complicated. From recipes like beef, pork, fish, and chicken to perfectly grilled vegetables, there are plenty of outdoor grill ideas to try.
Grilled Grazed Drummies
Grazed dummies are grilled chicken wings that are mild tasting and more delicious that traditionally cooked chicken wings. Grilled glazed dummies are great to serve in family events and get together. So let us check how to prepare grilled glazed dummies for your family.
Ingredients
Ketchup, 1 cup
1/3 cup of soy sauce with less salt
Honey, four teaspoons
3/4 teaspoon ginger root powder
One-half teaspoon of garlic powder
3 pounds of thawed fresh or frozen drumettes of chicken
Optional: Ranch dressing and thinly sliced green onions
Steps To Prepare
Put the first five ingredients in a small bowl. Put a cup of marinade in a large dish and add the chicken pieces. Then turn to coat the chicken. Cover and put the bowl into a fridge for 4 hours. You can also put it overnight in the fridge. Cover the remaining marinade and refrigerate for basting.
Drain the chicken and discard the marinade. Grill it over medium heat until the juices run clear—grill for 15 to 20 minutes. Turn and baste with reserved marinade occasionally. Top with slices of green onions if required and serve with ranch dressing.
Check out the recipe and process for perfect chicken wings grilling.
Grilled Stuffed Chili Rellenos
These Mexican-style chili Rellenos are one the cheap grilling ideas. They can be prepared with a stuffing of baked beans, onions, garlic, fresh cilantro, and cheese. It makes a delicious and filling vegetarian grilled cuisine for lunch or dinner.
Ingredients
Six substantial poblanos, or green bell peppers
Olive oil, two tablespoons
One medium onion, diced finely
Two chopped garlic cloves
Two seeded and sliced jalapenos
Chopped coarsely half a red bell pepper
Chopped fresh cilantro, half a cup
One teaspoon of cumin, ground
1 (28-ounce) can of drained vegetarian baked beans
Spicy sauce, 1 to 3 tablespoons, to taste
12 ounces of finely grated pepper jack or Monterey Jack cheese
Salt, as desired
Black pepper, freshly ground, to taste
Steps To Prepare
To make a boat for the filling, cut the poblano chiles half their length and remove the seeds.
Take two tablespoons of olive oil in a skillet and heat it over medium heat. Then add the onion, garlic, jalapenos, red bell pepper, cilantro, and cumin—Cook for 4 minutes, or until the mixture turns golden brown.
Remove pan from heat and add cooked beans, hot sauce, and 8 ounces of cheese. Add a little salt and pepper to taste. Pour mixture into hollow peppers and sprinkle with remaining cheese.
Set your grill to indirect grilling and preheat to medium. Place the peppers on the grill and avoid direct heat. Cook for 30 to 40 minutes, until the peppers have softened and the cheese is golden and bubbly.
Remove from the grill and serve it at once.
Burger Sliders
You can serve these cute mini burgers as dinner rolls, which are great for a casual buffet supper.
Ingredients
4 slices of bacon
1 onion, finely chopped
2 garlic cloves, minced
3 pounds of lean ground beef
2 tablespoons Worcestershire sauce
Salt and pepper
24 small buns
Steps To Prepare
Fry the bacon in a pan until crisp. Remove the bacon and drain it on kitchen paper. Discard all but 2 tablespoons of bacon and put the onions in it until they turn translucent. Then add the garlic and fry for another 30 seconds. Remove the mixture from the pan and let it cool. Crumble the bacon when it cools down enough.
Combine the beef with the bacon and onion mixture. Put the salt, pepper, and salt in a large bowl and mix well. Shape into 24 small meatballs and refrigerate.
Preheat the grill to medium heat, and then put the oil. Grill the rare patties for about 7 minutes, turning once halfway through cooking. Serve burgers on buns.
Also, check out how to grill frozen burgers recipe.
Grilled Eggplant
Grilled eggplant is one of the best outdoor grill ideas you can try this season. It is very easy to prepare even for newbies and even better than chicken burgers. Unfortunately, most people undercook or overcook eggplant due to a lack of experience. Fortunately, here are the steps to grill it the right way.
Ingredients
2 tablespoons sea salt
6 to 8 cups of cold water
1 cup of warm water
3 medium eggplants
1/2 medium-sized cup olive oil
Steps To Prepare
First, gather all the ingredients mentioned above to prepare grilled eggplants.
In a large bowl, dissolve 2 tablespoons of salt in 1 cup of warm water; Stir until the salt has completely dissolved. Add 6 to 8 cups of cold water. Set brine aside.
Slice the eggplant (diagonally, crosswise, or lengthwise) into 3/4 inch thick slices. Place the slices in the brine.
Using an inverted plate, weigh the eggplant slices; Soak for at least 30 minutes or up to an hour.
Meanwhile, heat the charcoal or gas grill over medium-high heat. You should be able to hold your hand about 1 inch above the grill grate for 3-4 seconds before removing it from the heat.
Drain the eggplants and pat dry with kitchen paper or a clean kitchen towel.
Arrange the slices on a large tray—brush one side with oil and salt.
Place the greased side on the grill and heat them until the grill marks appear.
Brush the top edges of the slices with olive oil and sprinkle with salt. Turn the slices, close the grill lid and cook until grill marks appear on the other side and the eggplant is very tender. About 5 minutes left.
Serve hot or at room temperature.
Mexican corn on the cob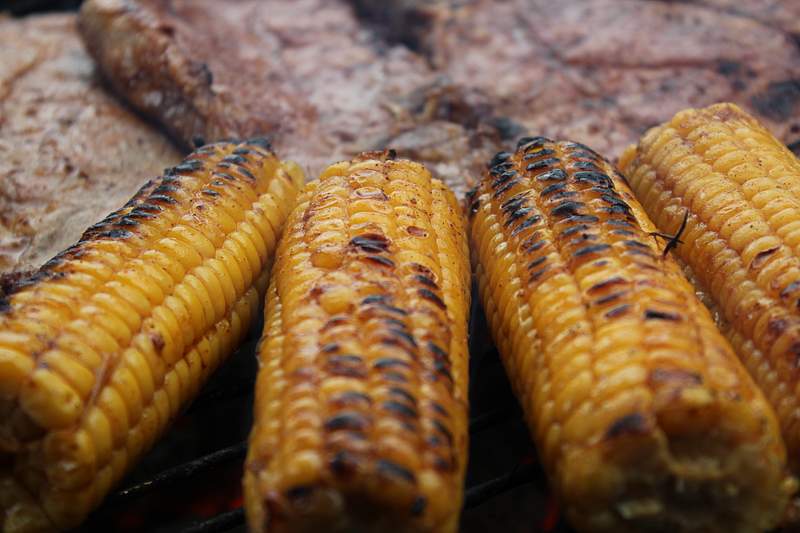 This barbecued sweetcorn with lime and chili treated with melted butter is a cheap, delicious grill recipe you must try in summer.
Ingredients
Four corn cobs
Zest 1 lime
100g butter, softened
1 tsp chili powder, mild or hot,
Lime wedges, to serve  
Steps To Prepare
Soak the corn in cold water for 15 minutes. Heat a grill or broiler and place the hot corn on the sticks. Cook for 30-40 minutes, turning regularly until the corn is tender and partially charred.
Meanwhile, beat the butter with the lemon zest and pepper. When the beans are cooked, drizzle each one with flavored butter and serve with lemon wedges.
Honey Grilled Sweet Potatoes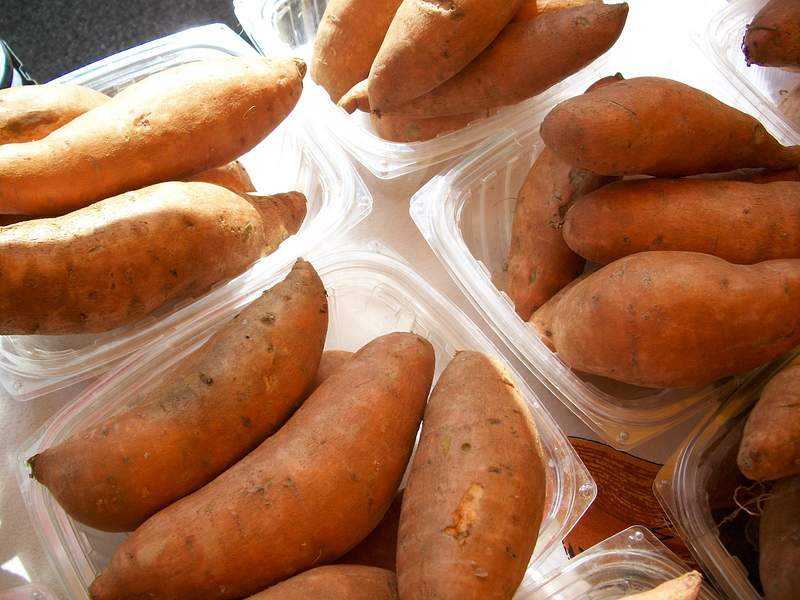 There is a lot to love about these easy-to-grill sweet potatoes as they are tender from the inside but lightly charred and crispy from the outside. While grilling, a glaze of butter and honey caramelized on the potatoes to offer them a finger-licking flavor. Honey grilled sweet potatoes can be the most inexpensive cookout idea for you.
Ingredients
4 medium sweet potatoes
3 tablespoons brown sugar
1/2 cup unsalted butter, melted
1 teaspoon salt
Vegetable oil
1 teaspoon ground cinnamon
Steps To Prepare
Gather all the above-given ingredients and cut the sweet potatoes into ¾-inch slices.
Let 3 liters of water come to a boil. Add salt and potatoes. Cook until potatoes are soft, about 8 to 10 minutes.
Combine butter, brown sugar, and cinnamon in a small bowl; put aside.
Brush the potatoes on both sides with vegetable oil, and the grill grates well. It makes a nice non-stick surface so that the fries don't stick and fall apart.
Place the sweet potato slices on a preheated grill over medium heat and cook for 10 to 15 minutes, turning occasionally. Begin tasting the butter-sugar mixture in the last 5 minutes. Keep an eye on the potatoes, as the butter and sugar can cause flare-ups on the grill. So leave the lid open for this part of the cooking process.
When the sweet potatoes become soft in the middle and golden on the top, then they are ready. Remove, brush again with the remaining butter mixture and serve.
Beef Burgers
For the burger patties, combine inexpensive ground chuck with finely chopped onion, celery, and parsley. You don't have to worry about the patties adhering to the grill because ground chuck has more fat than extra-lean ground beef.
Ingredients
3 lb. ground chuck
8 hamburger buns
1 celery stalk, finely chopped
¼ cup chopped fresh parsley
1 small onion, chopped
Salt and pepper
Steps To Prepare
Combine meat, celery, onions, and coriander in a medium or large-sized bowl. Sprinkle some salt and pepper. Shake them using your hands or a spoon and form 8 Patties. Refrigerate until ready to use. Turn on the gas grill or charcoal fire to medium-high heat. Fry the burgers, turning them once, for 8 minutes. Serve hot on toasted buns.
Summing Up
These were some of the best but cheap grilling ideas that won't burn a hole in your pocket. Also, check out these 7 tasty BBQ recipes for barbeque lovers. So, try any of these ideas or more to enjoy delicious barbeque dishes on a budget.
Latest posts by John Rinder
(see all)