The burning charcoal and the aroma of smoky foods remind everyone of the tropical paradise and the most pleasurable gatherings. Food is the focal point of any event, and grilling veggies, classic burgers, chicken, fish, and pulled pork on such occasions turns out the regular gathering into exciting occasions. If you want to host a meet-and-greet for your family or friends, you can fire up the grills and choke down the BBQ dishes, salads, and sides on your menu list. There are a plethora of healthy grill recipes you can choose from! We've covered some bases to make your cookout perfect for the next gathering!
BBQ Chicken Salad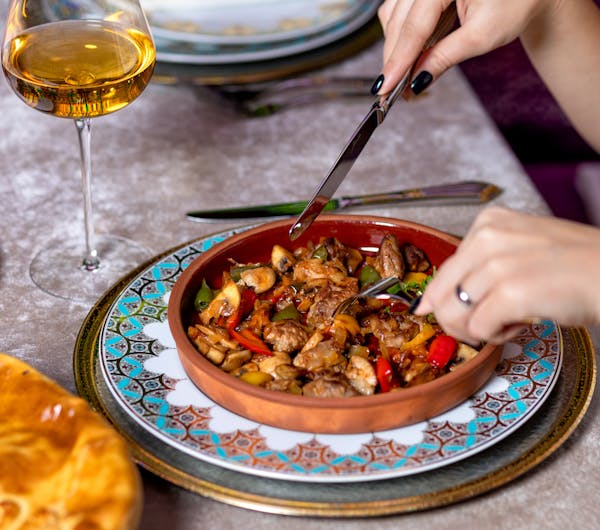 Chicken Salad is a delicious and the most satisfying healthy grill recipes ideas full of flavor and texture. The salad is loaded with wholesome veggies and juicy chicken chunks. It is then smothered in BBQ sauce and topped with healthier dressings. 
The salad is healthier and has good-for-you ingredients containing minerals, proteins, and vitamins. You can serve protein-packed BBQ chicken salad with a dynamite presentation at your upcoming gathering.
BBQ Pulled Pork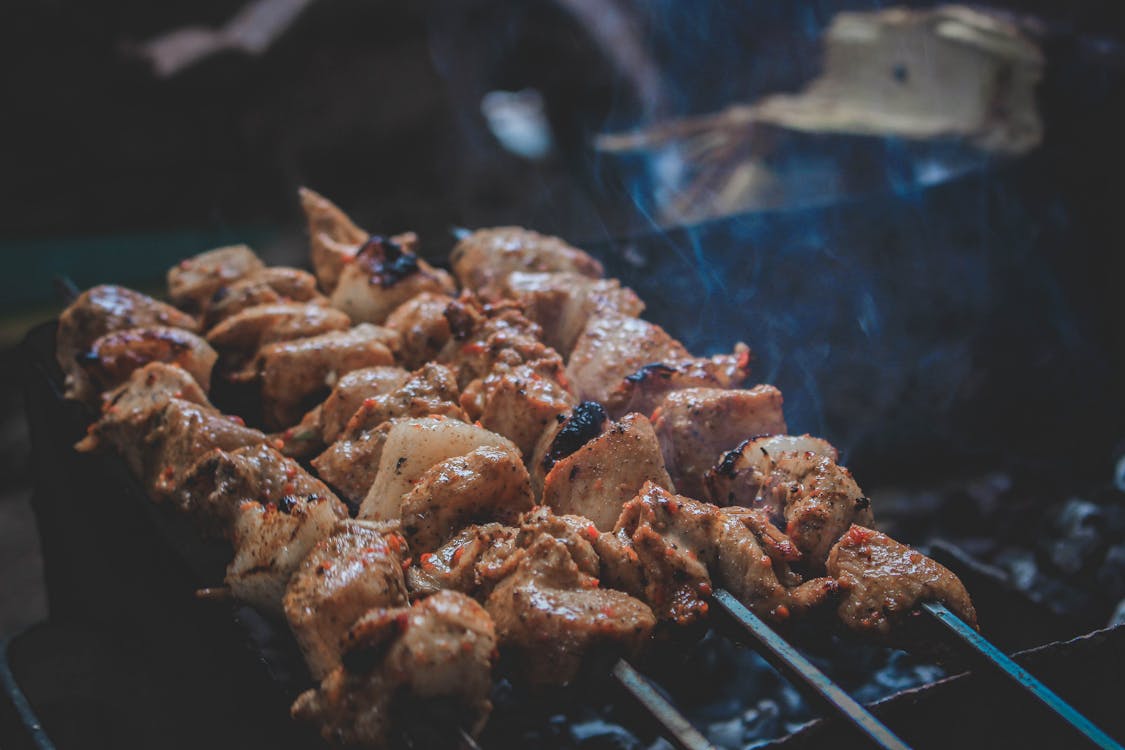 The BBQ pulled pork is an extremely easy-to-make and mouth-watering dish with minimal ingredients and smoky flavors. The tender pork butt is cooked slowly to give an easy melt-in-texture. It adds more flavors and tenderness to the dish. 
Cornbread is the most popular option that goes well with the BBQ pulled pork. The ideal combo of classic corn goodness and sweet flavors beats everything on the menu list. You can try this delicious combination for stress-free party servings.
Salmon with Lemon Garlic Sauce
BBQ salmon with lemon garlic sauce is a nutritious dish loaded with omega-3 fatty acids. It's easy to make and requires marination with less than 30 minutes of the quick grill. The lemony and garlicky flavor tossing makes it a go-to grilled BBQ recipe for this Summer season. 
You can create a side dish with it to give a more earthy and mild taste. The roasted baby broccoli with small florets and long stems can be the complimentary hearty side dish that pairs well with the BBQ salmon. Try this luscious BBQ meal combo for next Friday's Summer party.
Soy and Butter Salmon Parcels
A delicious 3-ingredient BBQ dish, soy and butter salmon parcels incorporate the essential omega-3 fatty acids. These are necessary to regulate body inflammation and contain no added fats. 
Marinate salmon and the tasty soya and grill it on BBQ. Once the salmon and soy become extra golden, let it caramelize for a flakey finish. Serve the dish with a cucumber and sesame salad. It will add a chinese twist to the dish.
Baked Barbeque Tofu
Insanely marinated and baked BBQ tofu is completely vegan and gluten-free. It is crispy and slathered with vegan healthy BBQ sauce to give it a sweet and spicy flavor. You can stuff the baked barbeque tofu in a sandwich or pile it up on the salads. 
It's a great appetizer and can be served as a side dish. You can include it in the main course and serve it with vegan fried rice or mashed potatoes.
BBQ Chicken Kababs
BBQ chicken kababs act as the perfect starters for any party. It does not require any marination. Instead, you can use the skewers directly to barbeque spice-rubbed skinless chicken, veggies, and fresh green onions by simply coating them. 
One can smother the kababs in barbeque sauce to caramelize them with delicious flavors. You can serve the chicken kababs with a cucumber yogurt dip for the best pairings. The creamy dip flavor and tangy kababs make everyone drool. Anyone can make hot BBQ chicken kababs an addition to the upcoming fun-filled parties. 
Grilled BBQ Chicken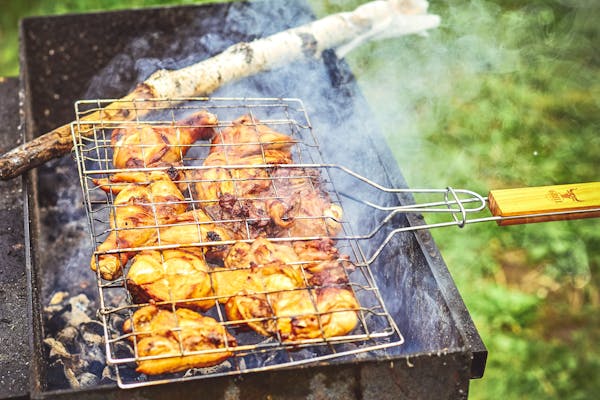 The Grilled BBQ is delicious and insanely juicy. It is slathered with the barbeque signature sauces and is cooked at low temperatures to give it a crispy texture.  
Grilled BBQ chicken goes hand-in-hand with creamy potatoes. The classic side complements the chicken and gives a sweet, tangy, and creamy taste. It's one of the most loved BBQ meal ideas you can try this Summer grilling season.
Griddled Nectarine and Feta Salad  
The delicious griddled nectarine and feta salad add a burst of sweetness and sour flavors to the taste buds. It is completely vegetarian and gluten-free and low in calories. The heirloom tomatoes and basil work together, giving any BBQ lover bursting fresh Summer flavors. 
You can crumble the cheese and coriander leaves on the top and serve. It can pair well with a multitude of meals, but you can serve it with toasted garlic bread. It is under 30 minutes delicacy, you add in any of the gatherings.
Grilled Bacon Wrapped Chicken   
The bacon-wrapped chicken is among the best grilling recipes, with a perfect combination of smoky and sweet flavors. It is high in protein, low in carbs, and completely gluten-free. 
You can wrap the chicken in bacon and brush it with seasoned BBQ sauce or ranch dressing; the juicy chicken and crispy bacon are ready to eat. You can serve bread or sweet potatoes for a perfect combination of flavor and texture.
Grilled Garlic Butter Mushrooms   
Grilled garlic butter mushrooms are among easy-to-make healthy BBQ recipes rich in fiber and proteins. It's a perfect main course dish that serves well as a side dish with burgers and steaks. 
The flavors of garlic and butter go pretty well with the dish. You can use basil, chives, or dill as a herb option to give a flavor twist. One can enjoy the melt-in-mouth mushrooms to give a kick of flavors to the meal.
Teriyaki Grilled Shrimp and Pineapple 
Teriyaki grilled shrimp and pineapple is a complete meal entirely on the BBQ. This dish is a clever combination of shrimp and pineapple that can be served as a side dish or an appetizer. Glaze the pineapple chunks and juicy shrimp with a teriyaki sauce and make your taste buds tingle in minutes. 
It's a perfect blend of caramelized flavors and serves well with rice. It brings a nice caramelization and charcoal grill flavors over the top. You can introduce this meal to your weeknight dinner parties. 
Grilled Zucchini with Parmesan
Zucchini is rich in antioxidants and vitamin B6. It's one of the healthiest food options you can enjoy at your Summer parties. Grilled zucchini with parmesan is a little crispy and ultra-healthy dish. 
Coat the zucchini pieces with olive oil and seasonings to give a twist to the flavors. Sprinkling red pepper flakes over the zucchini eventually give a kick to the dish. Serve grilled zucchini with grilled chicken, shrimp, or fish. The grilled flavors and flakiness makes it a fabulous combination.
Marinated Grilled Vegetable Kababs
Delight your guests with flavorful marinated grilled vegetable kababs in your next gathering. It is a wonderful side dish that gives the taste buds the right amount of flavor and texture.  
Marinate the vegetables in a citrusy sauce and tender them on a hot grill. It gives veggies a delicately smoky flavor. Try to add caesar pasta salad, grilled chicken, or pork chops to complete the meal.
Basil Pesto Pasta with Grilled Vegetables
Basil pesto pasta with grilled vegetables is a satisfying meal loaded with vegetables. It is tossed in homemade basil pesto and put on a BBQ. It's a gluten-free and low calorie dish. Top the pasta with squash, charred red onions, and burst tomatoes. 
You can also drizzle lemon juice on the dish before serving to give a tangy flavor. One can also serve it as a side dish alongside cheese, garlic bread, and sauteed zucchini. Your guests will surely love all these flavors.
Caprese Eggplant Steaks
Eggplant is rich in vitamins A, and is full of antioxidants. It is the healthiest option to include in your menu list. Caprese eggplant steaks can be served as a main course and a side dish. 
You can grill up the eggplant and add vegan caprese for sweet and savory flavors. Top up the eggplant with mozzarella balls, basil, and tomatoes. A pinch of pepper flakes on the top makes it a perfect-to-go meal.
Grilled Pineapple Salsa
Grilled pineapple salsa is among the most healthy grill recipes that cover both nutrition and taste. Just fire up the grill and place the pineapple slices and bell pepper on the BBQ for a smoky and sweet flavor. 
It serves well with tacos, grilled chicken breast, and seafood. Delight your guests with the taste of your favorite grilled pineapple salsa.
BBQ Chicken Tacos
BBQ chicken tacos are super delicious with a zippy and creamy slaw blend. It is among easy-to-make healthy grill recipes perfect for the busiest nights. Marinate the BBQ chicken and serve it in a tortilla. 
You can top corn, onion, avocado, lime sauce, and black beans over it for a pleasing presentation. You can serve cheese quesadilla with tacos in your next feast.
Summing Up
Food, fun, and entertainment is the focal point of every feast. Serving healthy options in such gatherings is tricky. However, we have a curated list of BBQ dishes perfect for any occasion. These healthy grill recipes are lower in calories and packed with healthy ingredients. Choose the best BBQ dishes and make your upcoming gathering the most memorable!
Latest posts by John Rinder
(see all)