There's nothing quite like a summer BBQ. The smell of burgers on the grill, the sound of laughter as friends catches up over cold drinks, and the feel of the warm sun on your skin. But if you're not prepared, hosting a BBQ theme party can quickly turn into a stressful ordeal. Here are some tips on how to throw a last-minute BBQ without breaking a sweat:  
Plan Ahead  
What's a better way to enjoy Summer than hosting a BBQ? Embrace the maximum- the more, the merrier! The best way not to get stressed out during the last-minute BBQ parties is to have supplies on hand. Keep your freezer and pantry stocked at all times with anything you might need, from cups, napkins, and plates to drinks, hot dogs, and more ingredients.  
If making last-minute arrangements stresses you out, pick the finest date for your backyard celebration. Would a weekday or a weekend be preferable? The best day to have your BBQ depends on when your visitors will be available, other errands you may have on that day, and the summer activities your kids are engaged in. Plan your food when you've decided on the date. In this way, you may purchase everything you need in advance and even prepare some items, such as cold salads and desserts, a day or two beforehand.  
Choose Your Menu Wisely  
Make no more than three objects entirely from scratch; more can be too much. Store-bought food may not always be terrible, particularly if your favorite bakery or specialized shop is close by. Run to the shop and choose from a broad selection of organic or healthy dishes if you're short on time. To save time and effort, stick to your tried-and-true recipes that will be a hit with your visitors.  
Consider fast dishes and lite sides to avoid giving your guests a heaviness in the summertime. Burgers, hot dogs, and brats are classic barbecue fares that go well with salads and finger snacks. And end the BBQ with delicious desserts such as popsicles or ice-creams to beat the Summer heat.   
Also, one can add food stations such as beverage stations or burger bars with all the condiments or a hotdog spread and s'mores bar. Set up things so your guests can make their own BBQ foods; that saves you a lot of time.   
Delegate Chores  
Enlist help and assign duties to your buddies so you do not have to stress about completing everything yourself. For example, have your brother scrub the deck, or your friend clean the grill. The kids can wipe down the outdoor furniture or do some light weeding. Also, don't be afraid to ask your visitors for help. They can contribute too! Ask your guests to bring dessert and wine that goes well with BBQ food. Plus, you can even put someone in charge of games and entertainment.   
Keep It Simple  
There's no need to go overboard, especially when you're throwing BBQ last minute. Do not mess yourself with lighting or decorating. Just keep in mind that as a guest, you're thrilled to be invited to your home and are grateful for the wonderful time you will have with your buddies. Decorations and fussy food are not necessary for a memorable BBQ.  
These are the outdoor BBQ ideas that will help you in planning a last-minute BBQ. To make your task even easier, here are some last-minute BBQ food recipes that will help you save a lot of time.  
Last-Minute BBQ Food Recipes  
Has the sun made an unexpected appearance? Spend this Summer Day outside with delicious BBQ food recipes. Let's get started:  
Crispy Grilled Chicken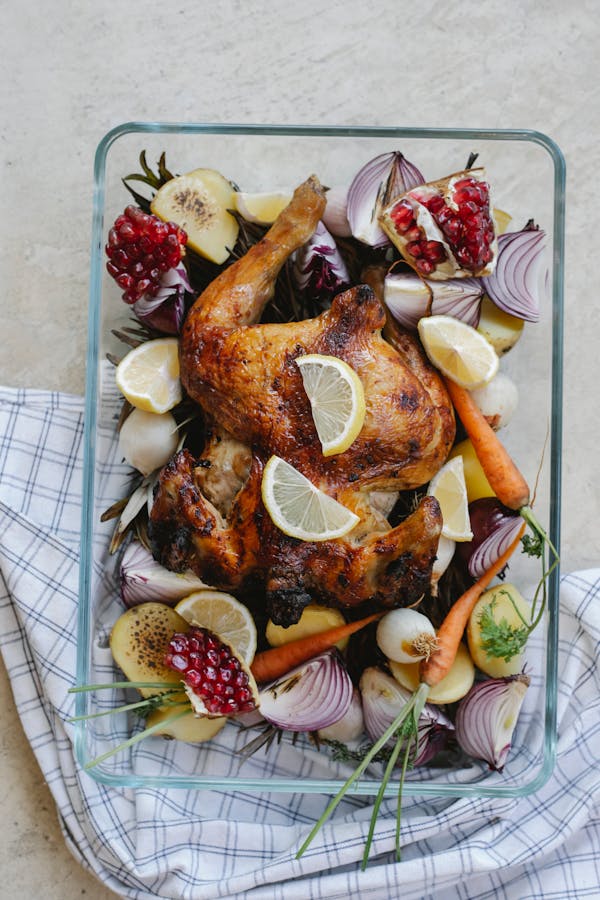 Who doesn't love to eat chicken every night of the week, but our waistline doesn't allow us? Luckily, here is a pretty good alternative. Once you taste this crispy grilled chicken, you won't even believe that they are cooked on a grill. Plus, they can be prepared in just 30 minutes.   
Ingredients:  
1 cup mayonnaise  
¼ cup chopped fresh parsley  
½ teaspoon cayenne pepper  
4 boneless, skinless chicken breasts  
¾ teaspoon freshly ground black pepper  
1¼ teaspoons salt  
1½ teaspoons paprika  
1 teaspoon dried oregano   
Directions:  
Preheat your grill. Meanwhile, in a bowl, beat the mayonnaise with pepper, salt, cayenne, paprika, and oregano to combine.  
Once the grill is hot, rub the chicken breast with the mayo mixture.   
Now, grill the chicken breasts until they are nicely charred on both sides and fully cooked for 5-6 minutes per side.    
Garnish it with parsley and serve this delicious BBQ food to your guests.    
Indonesian Grilled Sambal Chicken   
The combination of tangy, salty, sweet, and spicy Grilled Sambal Chicken and a cool, crunchy salad is delicious. Whether you want it to be tossed into a salad, served over rice, or folded into tacos, it's a versatile recipe that will surely delight you. Here's what you need:  
Ingredients:  
2 – 2 ½ lbs Chicken 
8–10 Pre-soaked Skewers (optional) 
2 tablespoons olive oil or peanut oil  
1 tablespoon soy sauce  
¼ cup Sambal Olek plus 1 -2 tablespoons more for extra spicy  
4 garlic cloves  
¼ cup rice wine vinegar  
½ cup brown sugar  
¼ cup fish sauce  
¼ cup sriracha sauce  
1 ½ tablespoon sliced fresh ginger  
Directions:  
Cut the chicken into bite-sized pieces (to skewer) or leave it whole. Place the chicken in a bowl or gallon zip-top bag.  
Blend the remaining ingredients, excluding Sambal Oelek (or red chili paste), until they are completely smooth. Add the Sambal Oelek chili paste after combining everything. The chicken should be marinated for 15 minutes or overnight.  
Set the grill to medium-high heat.  
Add chicken skewers (or leave whole)  
The leftover marinade should be poured into a small pot, brought to a simmer, and then simmered on low for five to ten minutes to thicken and decrease. The chicken will be basted with it.  
Place the chicken on an oiled, hot grill. Cover. Cook for 5 minutes or more, or until grill marks are deep. Flip, bast, and cover. Once both sides have received a thorough sear and basted, reduce heat to low or move to the higher rack and finish cooking (or finish in 375 ovens).  
That's it! Your delicious BBQ food is ready to be served!  
Grilled Salmon Skewers with Garlic and Dijon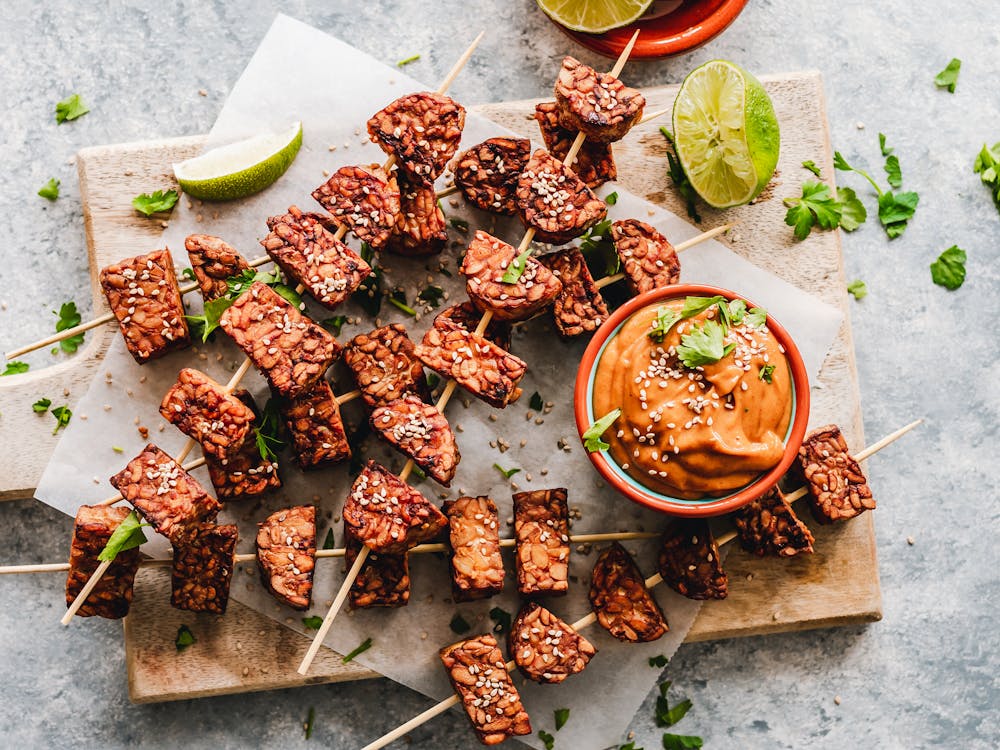 This mouth-watering food takes less than 30 minutes to make, and you'll surely end with flavorful, flaky, and juicy salmon. Let's get started:  
Ingredients 
2 large lemons thinly sliced  
1.5 lbs salmon fillets, cut into 1-inch squares  
16 10-inch bamboo skewers  
For the Salmon Marinade:  
2 Tbsp parsley, freshly chopped  
2 Tbsp of fresh lemon juice  
2 Tbsp light olive oil  
1/8 tsp ground black pepper  
1/2 tsp salt  
1/2 Tbsp Dijon mustard 
3 small or 2 large garlic cloves, pressed  
Directions:  
Soak bamboo skewers for at least an hour before use to prevent them from catching fire. The grill should be heated to a temperature of roughly 375°F.  
Combine all the marinade ingredients in a medium bowl: Two tablespoons of chopped parsley, two pressed garlic cloves, one tablespoon of dijon mustard, one tablespoon of olive oil, and two tablespoons of lemon juice.  
Lemon and salmon slices folded in half should be skewered on two skewers at once. Salmon on a skewer should have marinade applied on both sides.  
Place the salmon skewers carefully onto the hot grill after oiling the grates. Grill kebobs on each side for 3–4 minutes, or until the salmon is opaque and cooked through.  
Flank Steak with Chimichurri Sauce  
If you think a BBQ dinner is incomplete without a mouth-watering sauce, make flank steak with chimichurri sauce with a spice of flavors. Here's what you need:  
Ingredients:  
For The Flank Steak:  
1 tbsp olive oil  
1 tsp kosher salt to coat the steak  
2 lbs flank steak  
1 tsp ground black pepper to coat the steak  
For The Chimichurri Sauce:  
1/3 bunch fresh Italian parsley  
1/2 cup olive oil  
2 limes approx. 2-3 tbsp., juiced  
1/2 tsp coriander seeds can substitute for ground coriander  
1 tsp ground cumin  
1 tsp kosher salt  
1 clove of garlic smashed  
1/2 jalapeno seeds removed  
1/3 bunch of fresh cilantro  
1/2 red onion quartered  
Directions:  
Heat oil in a large skillet.   
Generously season the steak with pepper and salt. Once the pan and oil are hot, add the steak and cook on high for 3-4 minutes, until well-browned. Then, flip over and cook for 3-4 minutes until well-browned.  
After taking it off the fire, place it on a chopping board, and wrap it in foil for five minutes. 
Make the chimichurri sauce while the meat is either cooking or resting. Blend the cilantro, red onion, jalapenos, lime juice, cumin, coriander seeds, parsley, red onion, jalapeno, and salt in a blender. 
To chop the mixture, continue to pulse. 
Add the olive oil and purée for approximately a minute or until the mixture is smooth. 
Slice the steak lightly against the grain and then generously spoon on the sauce before serving. The sauce can also be dipped in. 
Conclusion  
So that's it! That's how you can throw a last-minute BBQ without breaking a sweat. Just plan a party, divide the work among your guests, ask them to bring food and drinks and you're all set. And these last-minute BBQ recipes will surely make your outdoor BBQ a perfect day with lots of memories. 
Latest posts by John Rinder
(see all)