No matter how mouth-wateringly good the brisket may be, there are always leftovers. A brisket produces plenty of meat, and many people wonder what to do with leftover brisket. You want to make the most of it because you worked so hard to make it. It's not always necessary to eat brisket right out of the smoker. These delectable leftover brisket recipes, from empanadas to BBQ sandwiches, will have you whipping up something in no time.

Since brisket is a large cut of meat, you'll inevitably have a lot of leftover beef to deal with from time to time. Numerous leftover brisket recipes can help you use the excess meat before it goes bad rather than tearing it with a fork.

And it is not simply about barbecued brisket sandwiches. We've got some delectable suggestions, like tacos, soup, and even breakfast hash. Here are some of the best leftover brisket recipes that can transform leftovers into delicious meals.
Check out our article on the 9 best grills for smoking brisket to get that smokey taste we all know and love!
Sandwich with Brisket  
Big sandwiches are the best leftover brisket food to have as a breakfast meal. Strong bread that will soak up the juices, along with a few complementary toppings, like cabbage, add variety to each mouthful, are essential for a good beef brisket sandwich. Grab a baguette for a French brisket dip if you're feeling fancy. Next, consider a grilled cheese sandwich with some extra brisket and fresh apple slices squished in the middle. Learn more about how to make a perfect grilled cheese sandwich. 
Stuffed Pasta  
Stuffed pasta can be one of the best leftover brisket recipes for those who love pasta. If you're making homemade agnolotti, tortellini, or ravioli from scratch, the laborious (but delicious) procedure can take over a day. However, having leftover, tender meat to use as a filler speeds up the difficult (though delicious) process. Combine the leftover meat in a food processor with an equal amount of pureed squash, ricotta cheese, or both. Then, spoon the mixture onto rolled-out pasta sheets, whichever you like. The meat filling can also be used to make pre-made giant shells or manicotti noodles for those seeking convenience.
BBQ Brisket Hash 
Give the classic brisket hash a vegetable-based makeover is one of the best leftover brisket recipes. For the ultimate flavor experience, this recipe mixes red cabbage, sweet potatoes, poblano, and jalapeno peppers.  
Your remaining meat will release more juices thanks to these earthy spices. It will be more succulent and mouthwatering than ever! This meal is quick and simple for a hectic weekend day. Additionally, it produces a tonne of food, ensuring that no one at the table goes without food.  
When you have an abundance of brisket at home and want to serve the whole family, try this recipe! 
Breakfast Quesadillas 
There is nothing to worry about if the barbecue from last night left your cabinets a little empty. There are only 4 ingredients total for these morning quesadillas, and even those are flexible.  
For instance, it will taste wonderful if you have additional meat leftover that you want to use up.  
The same is true with sauce; as long as you have enough to generously coat the meat, it doesn't matter what kind is floating around. Apart from that, all you need are tortillas and cheese to get started.  
Ingredients:  
12 large tortillas for burritos  
Brisket, 1–2 pounds  
1 to 2 cups of BBQ sauce  
Cooking spray 16 ounces of shredded Colby Jack cheese  
You may also use any type of leftover meat, such as chicken, steak, or carne asada, to make these quesadillas.  
Take the brisket that is left over and cover it in your preferred barbecue sauce. Check to see that the brisket is flowing with sauce by getting down on it with your hands! Then take 3 or 4 pieces and place them between 2 layers of Colby Jack cheese on a burrito-sized tortilla. Transfer the tortilla into a sizable frying pan after coating it with cooking spray. Add another tortilla on top and a bit more cooking oil spray.  
To prevent burning, cook the BBQ brisket quesadillas over low to medium heat. Keep an eye on quesadillas since they may transform from pleasantly browned to crispy charcoal in just 3 seconds. When it has reached the desired level of browning, flip it over and repeat the process on the other side.  
The quesadilla should be taken out and left to sit for a few minutes after you can see the cheese has just started to melt. To prevent the cheese from running out, cut it after it has cooled for a few minutes. Place them all on a dish and watch them vanish!   
Beef Brisket Sandwich  
Sandwiches made from leftover beef brisket are undoubtedly more traditional. If you want to up the ante on the already delicious combination of brisket and bread, put some horseradish mayo on the toast! The melty gruyere cheese's rich nuttiness and creaminess serve as the ideal covering for the tender beef. Under the warm, soft, and squishy inner bread, the BBQ sauce flows off of your hands and onto the dish. Add your favorite vegetables for a good crunch and flavor boost, such as lettuce, tomatoes, and onions.  
Smoked Burgers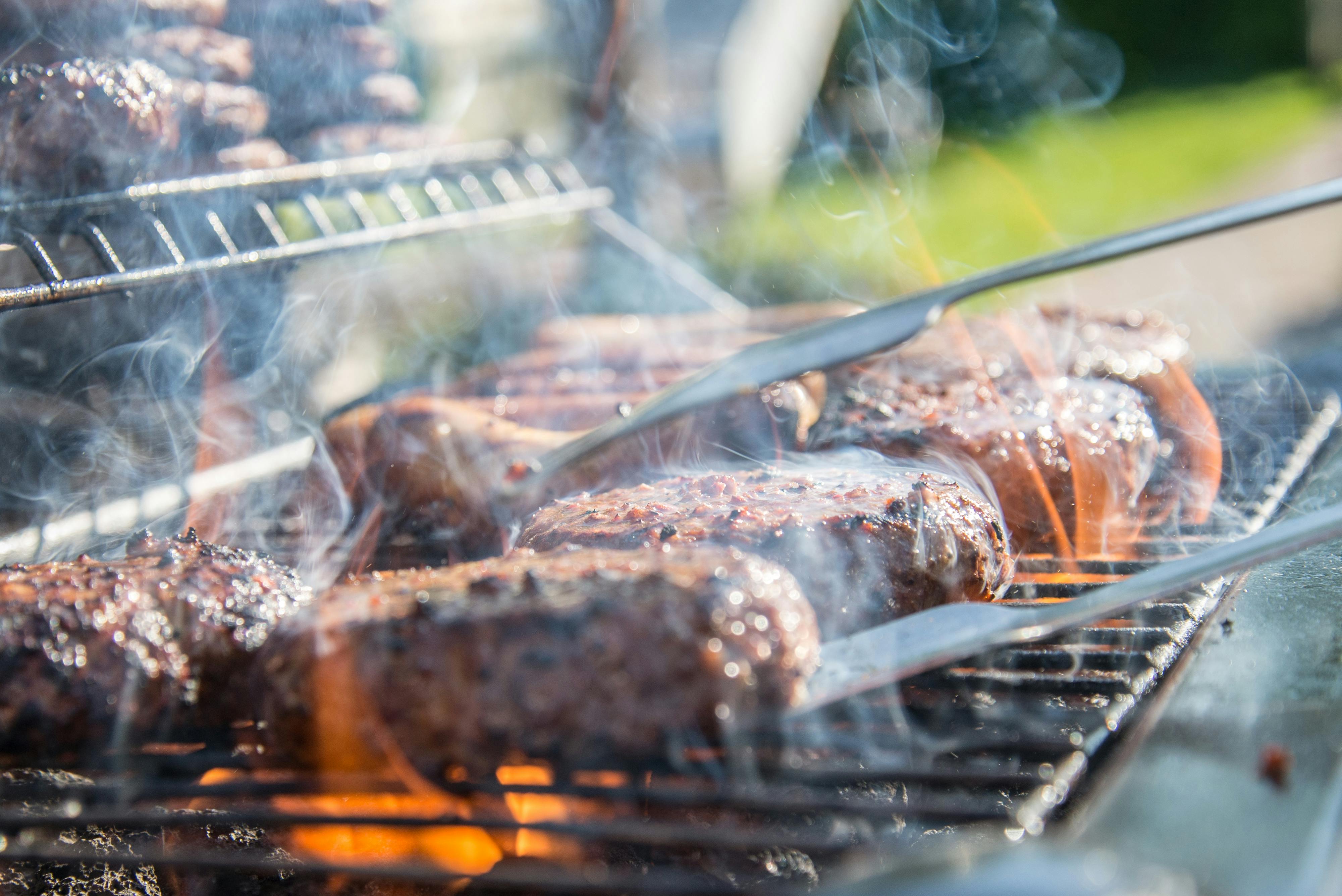 What better way to repurpose leftovers other than burger patties? The point area of beef brisket is rich in fat which makes it best to grind. The flat component is considerably leaner than the point, which is why we may grind the two parts together to achieve the ideal balance required for BBQ burgers.  
You'll need to grind your leftover point and flat with minced garlic and salt to produce this delectable smoked brisket burger. Create your patties, then smoke them over oakwood at 225°F for as long as it takes for the interior temperature to reach 140°F (60°C). Serve with tomato slices, bacon that has just been cooked, cheese, and barbecue sauce, of course.  
Learn more on How to grill the perfect burger patties.  
Leftover Brisket Chilli  
Brisket chili is another mouth-watering recipe that you can prepare from your leftover brisket. Here is the process you can follow to prepare leftover brisket chili at home. Take some oil in a large, heavy-bottomed skillet over medium-high heat. Then add onions and fry for a few minutes till they become slightly soft.  
Leave the chopped chillies and garlic for a few minutes. Now add the remaining brisket and spices.
Use the following spices.  
Chilli powder  
Cumin  
Smoked paprika  
Lower leg  
Salt  
Cinnamon  
Although this is optional, you can add a bit of coffee residue at this point to wipe off any brown bits on the bottom of the pan. You can also use beer, broth, or wine.   
Add tomatoes, beans, and green chilies and stir everything to a boil. While the chilies are cooking, cover the pan and cook for at least 45 minutes. You can cook it for a deeper flavor and up to 1.5 hours if you want.   
Stir it several times to avoid burning the bottom of the pan during cooking. Cover the pan, add the corn kernels and cook uncovered for the last 10 minutes to finish cooking.   
Brisket Bruschetta  
Brisket bruschetta is an easy and delicious recipe for any brisket leftovers you may have after a big barbecue or event. Cut up some brisket, mix it with your favorite barbecue sauce, and spread it on toasted baguette slices for a unique meaty treat!  
Ingredients  
The main ingredient is (obviously) leftover smoked brisket or flat smoked brisket. Slice the breast for easier serving on the crostini. You also need some olive oil to prepare crostini.  
Other ingredients are simple.  
A good baguette, slightly skewered or sliced at an angle.  
A thick Kansas city style barbecue sauce  
Creme fraiche for a creamy taste (sour cream or thick Greek yogurt also works well as a substitute)  
Chopped parsley leaves for garnishing  
Begin by heating the remaining sliced breast over medium heat. Add barbecue sauce to meat and stir. Know how to make barbeque sauce at home.  
Pour the creme fraiche into a piping bag (or put it in a sandwich bag and make a small hole in the top).  
Top toasted baguette slices with about 1 Tbsp meat and barbecue mixture, then top with a tablespoon of creme fraiche. Decorate with parsley.  
That's all. What an easy and delicious way to use up leftover brisket!  
Beef Empanadas   
Leftover brisket has some surprising uses for everything from chili to pizza, tacos, and more. But the best thing is to use leftover meat as a filling for these wonderful beef empanadas.  
The best meat empanadas start with smoked brisket. Feel free to use ground beef as well, but the magic of these empanadas begins with the quality smoked brisket.  
Now that you've chosen the meat for your empanadas, it's all about the seasoning and the right dough. The bakery's puff pastry is a great option if you don't want to make your own. But you can use any flour you want for this.  
For the best beef empanadas, start with mostly leftover smoked brisket. Then save the remainder of this empanada recipe.  
Take a large skillet, add the ingredients for the empanada filling and cook until all the ingredients become soft. Then put it in the food processor and pulse a few times. You still want to see chunks of meat and vegetables, not pasta.  
Then work with your dough. Cut into 3-inch pieces and then divide into 3-inch x 3-inch squares. Cutting into circles is also a good option, but circles create an extra dough that you have to roll or discard. Squares provide perfect servings without having to re-roll anything.  
Roll out the dough a little thinner than the package. It will thicken a bit as soon as it comes out of the box, making the final empanadas doughier than the filling.  
Once the dough is rolled out, brush the edges with some egg cream (you can use your finger to do this), and then put a tablespoon of the filling in the center. Bring one corner to the opposite corner and seal the edges with the ends of a fork.  
Place on a baking sheet covered with parchment paper. Alternatively, you can cover the ends with more whipped eggs. We've done this with and without washing and have found that washing only gives a nice shine when it comes out of the oven.  
Bake the beef empanadas for about 20 minutes, or the crust will brown. Serve with your favorite sauce.  
Summing Up  
These are the best brisket recipes that you can try to make the most of your leftover brisket. If there is food left over, you don't have to throw it out; you can utilize it to make other recipes for later meals. By using these leftover brisket ideas, you can save time, money, and food from going to waste.  
Additionally, with the aid of these leftover brisket recipes, you may serve your loved ones voluntarily without worrying about what will be left over. 
Latest posts by John Rinder
(see all)