Every get-together is incomplete until a table full of delicacies is served to the friends and the family. Relishing exquisite dishes and devouring deserts on the table makes the gatherings special. Hosting a seafood extravaganza with perfectly grilled shrimp creates a culinary masterpiece in your own kitchen.

Here's an irresistible go-to list of 6 grilled shrimp recipes for you! So fire up the grills and get started with the best grilled shrimp recipe for your next cookout.
Grilled Shrimp, Arugula, and Watermelon Salad
The grilled shrimp, argula, and watermelon salad are one of the most served salads that can leave anyone drooling. It is an easy-to-cook recipe that can be prepared in a few minutes. To cook this salad, you'll need: 
Ingredients
1 pound medium-sized shrimp
2 cups diced watermelon
4 cups arugula
1/2 cup thinly sliced red onions
Extra-virgin olive oil
2 tablespoons vegetable oil
Kosher salt
Black pepper
Lemon juice
Method
Preheat the seasoned grill to medium-high flame. 
Whisk lemon juice, oil, a pinch of salt, and black pepper in a bowl. 
Add arugula, cucumber, watermelon, mint, onions, and olives to the bowl and toss gently to blend with the ingredients.
Take the remaining oil, red pepper flakes, salt, and black paper and toss the shrimp in a bowl.
Brush up the olive oil on the watermelon slices and grill the slices on one side.
Quarter and turn the slices to create crosshatch marks and grill for another 90 seconds.
Cool the slices and toss the salad until it blends well.
Sprinkle dressed arugula with cheese and top with grilled shrimp and cubed watermelon.
Enjoy and serve the dish!
Nutritional Facts Per Serving
Protein – 25.1g
Carbohydrate – 2.7g
Fat – 5.9g
Cholesterol – 230.4mg
Sodium – 585.7mg
Grilled Garlic and Herb Shrimp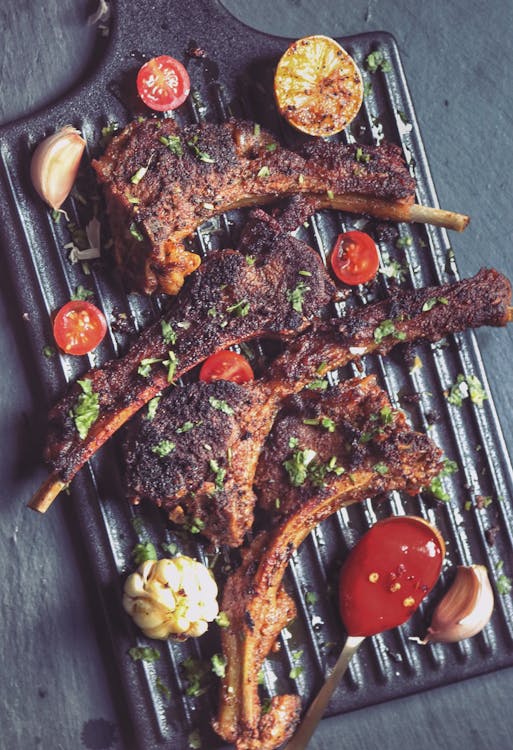 Grilled Garlic and Herb Shrimp is an easy shrimp marinade recipe made with fresh onion, fresh herbs, and garlic. It's a delicious main course with bursting flavors that you will crave all season long.
Ingredients
3 tablespoons freshly chopped basil leaves
3 tablespoons chopped parsley
1 tablespoon chopped oregano leaves
1 tablespoon fresh lemon thyme leaves
Thinly slices 3-4 garlic cloves
2 pounds 16-20 peeled extra large shrimp
Kosher salt for taste
Olive oil 
Skewers
For Sauce Preparation:
Olive oil
½ lemon juice
A pinch of cayenne pepper
Salt 
Black pepper
Red pepper flakes
Method
Take a mortar and pestle and make a paste of lemon zest and garlic cloves. 
Add chopped basil, oregano, thyme, and parsley to the mixture until the ingredients blend.
Drizzle the olive oil into the mixture and wait till the marinating sauce is ready.
Now take a large bowl and mix 2/3 of the sauce with the shrimp pieces. Stir till the shrimp is evenly coated. Now marinate this shrimp for 2 to 3 hours.
After a few hours, preheat the grill and oil the grate.
Now thread shrimp into the skewers and place them on a hot grill.
Cook each side of the shrimp till it caramelizes.
Now whisk olive oil, red pepper flakes, salt, black pepper, and cayenne pepper and pour it over the shrimp.
Serve the grilled garlic and herb shrimp on a platter with the remaining sauce, and enjoy the meal.
Nutritional Facts Per Serving
Calories – 120
Protein – 10g
Fat – 9 g
Cholesterol – 90mg
Sodium – 170mg
Thai Spiced Grilled Shrimp
The succulent thai spiced BBQ shrimp is a marinade recipe that you can't ever get enough of. It's a quick and delicious grill recipe that will give a little kick to your menu list. 
Ingredients
1 pound peeled medium shrimp
3 tablespoon freshly squeezed lemon juice
2-3 mminced garlic cloves
2 teaspoon curry paste
1 tablespoon soy sauce
1 tablespoon dijon mustard
1 tablespoon brown sugar
Method
Mix lemon juice, soy sauce, garlic, mustard, curry paste, and brown sugar in a dish.
Add shrimp to the mixture, and marinate it in the refrigerator for one hour.
Preheat the grill and lightly oil the grate.
Boil the marinade for a few hours.
Thread shrimp to skewers and grill it in a grill basket. 
Brush it with the glaze and serve it to the guests with their favorite drink.
Nutritional Facts Per Serving
Calories – 148
Protein – 16g
Fat – 6g
Sodium – 551mg
Grilled Teriyaki Shrimp and Pineapple Skewers
Fresh shrimp, red bell pepper, and pineapple threaded onto skewers and slathered in teriyaki healthy BBQ sauce is a perfect dish to be served at a summer weeknight party.
Ingredients
Peeled shrimp
1 small medium diced pineapple
2 cups chicken broth
Sliced Green Onions
2 Medium diced bell peppers
1 cup quinoa
4-5 minced garlic cloves
2-inch piece minced ginger root
Extra virgin olive oil
½ cup soy sauce
¼ cup honey
¼ cup rice vinegar
¼ cup water
4 teaspoon cornstarch
Method
Boil quinoa and broth together in a saucepan for 15 minutes in a simmering heat flame. Once it is boiled, let the saucepan stand for some time.
Whisk garlic, soy sauce, honey, vinegar, and ginger and bring it to boil over high heat flame. Cook until it is thickened.
Prepare a cornstarch slurry and cook till it forms a thickened sauce.
Now thread the shrimp, bell peppers, and pineapple onto skewers. 
Heat the grill over medium-high heat and coat the grill pan with oil.
Put the skewers on the grill and sauce on both sides of the skewers.
Cook each side for two minutes and turn the side for better cooking.
Enjoy and serve the teriyaki shrimp and pineapple skewers with green onions. 
Nutritional Facts Per Serving
Calories – 223
Protein – 20.4g
Carbohydrate – 32g
Fat – 2.3g
Cholesterol – 172.6mg
Sodium – 654.1mg
Sweet and Spicy Grilled Shrimp
The sweet and savory flavors of the grilled shrimp recipe make it an excellent dish to be served to the family in the summers.  
Ingredients
1 pound medium peeled shrimp 
½ cup chilli garlic sauce
½ cup honey
6 skewers soaked in water
Method
Take a bowl and stir the chili garlic sauce and honey altogether. 
Thread shrimps to the soaked skewers.
Preheat the grill and oil the grate.
Take skewers and put them on the grill until cooked.
Turn and bast the sauce mixture till shrimp becomes caramelized from all sides. 
Remove the shrimp from the grill, and garnish it with fresh cilantro.
Brush the shrimp with the reserved marinade.
Serve the dish with the lime wedges among the family and friends. 
Nutritional Facts Per Serving
Calories – 231
Protein – 18.6g
Carbohydrate – 37.9g
Fat – 1g
Cholesterol – 172.6mg
Sodium – 1469.9mg
Bacon Shrimp Scampi
The shrimp scampi is an effortlessly delicious meal topped with crispy bacon. It is easy to make 30 minutes meal that works as a perfect appetizer, weeknight meal, dinner, and much more.
Ingredients
1-inch sliced bacon pieces
2 pounds peeled raw shrimp
2 tablespoon freshly chopped parsley
3 tablespoon salted butter
3-4 minced garlic cloves
Freshly squeezed lemon juice
Method
Saute the shrimp until it turns to turn pink. 
Transfer the shrimp to a plate and season it with salt and pepper.
Melt butter and cook the shrimp for 2 to 3 minutes.
Remove the skillet from heat.
Top it with lemon zest and parsley.
Give it a bigger kick by adding more red pepper flakes. 
Serve the spicy dish on the platter and enjoy the meal. 
Nutritional Facts Per Serving
Calories – 553
Protein – 42.4g
Carbohydrate – 43g
Fat – 21.9g
Cholesterol – 309.5mg
Sodium – 756.4mg
Some Grilling Tips Everyone Should Follow Before Firing Up Shrimps
Keep an Eye on the Smoke Hue
The hue of the smoke really matters when you are barbecuing the shrimp. A clear blue smoke retains the shrimp's color and texture, while a dark color flame leaves the shrimp with a heavy smoke taste. 
Make Sure Shrimp Maintains Room Temperature Before Cooking
The key ingredient for a perfect barbeque is letting the shrimp be at room temperature before it is put on fire. It reduces the cooking time and lessens the risk of drying the shrimp out.
Remove the Shrimp Shell Before Marination
Make sure to remove the shrimp shell if you want to give a perfect smoky flavor to the dish. You can leave the shrimp shell on for a marinade dish to enhance the flavors.
Season the Grill, Not Just Shrimp
Seasoning the grill directly onto the grill gives the dish a slight char of seasonings and herbs. So, it is better to season the grill and the shrimp to give the meal a smoky and delicious flavor.
Saute the Shrimp over a Medium Flame
Heat the butter and saute the shrimp on medium flame. Add minced garlic cloves, red pepper flakes, and other spices to deepen the flavors. On a medium flame, the ingredients and the shrimp blend and cooks well, giving it a nice texture.
Summing Up
Shrimp is a complete protein source and healthy addition to a diet. Every shrimp food recipe's taste depends on every culture and cuisine. We have curated a list of summer grilled shrimp recipes perfect for every event. You can choose from our recipes and give these shrimp recipes a try.
Latest posts by John Rinder
(see all)