Summers feel incomplete without a good BBQ cookout. And sharing the beautiful cookouts with your family is the best way to have a fulfilling grilling experience. A bright sunny day, warm breeze, delicious smell of barbecuing food, refreshing drinks, and all your family members enjoying the day; a dreamy day, isn't it? Well, it's not too hard to make it real. So get your grills ready, and let your loved ones join you in this cookout adventure. Don't look for an occasion to prepare some delectable recipes. Instead, enjoy a family BBQ in your backyard whenever you feel like it with these super easy and kid-friendly BBQ recipes.  
Lemon Sole with Chipotle & Ancho Chili Recado  
A lip-smacking fish recipe with so many flavors and a side salad will definitely make you the star of your family BBQ party. This is an easy alternative to make your kids consume the nutrition of fish while enjoying its delicious flavors. Or else, use this as a filling to make grilled fish tacos. So, gather the below-mentioned ingredients to get started on this recipe: 
Lemon sole or dab fillets – 4 with skin  
Lime – 1
For Chipotle & Ancho Chili Recado
Garlic cloves – 4  
Chipotle and ancho chilies – 2 (dried)
Oregano – 1½ tbsp (dried) 
Lime – just ½
For Chunky Avocado & Cherry Tomato Salad
Cherry tomatoes – 14 (they should be ripe)  
Lebanese cucumber and ripe avocado – 1 each
Spring onions – 3 (chopped)
Extra virgin olive oil  
Lime – 1
Method  
Preheat the oven to 180 degrees.  
Prepare the Recado by roasting the unpeeled garlic in a small roasting tin for about 15 to 20 minutes. When the cloves become soft, transfer them to a plate. Once cooled, remove the skin.  
Put ancho and chipotle chilies in a small bowl and cover them with boiling water. Soak for 15 minutes, drain in a colander, and reserve the liquid.  
Blend together chilies, oregano, garlic, and a large pinch of sea salt in a food processor. Add 4 tbsp of the reserved liquid and lime juice. Blitz to mix them well. Place the paste in a non-reactive bowl.  
Now put the fish in this marinade and cover it using clingfilm. Refrigerate for half an hour.  
Make the salad using halved tomatoes, spring onions, and sliced cucumber. Add chopped avocado and mix them well with 3 tbsp oil and lime juice; season as per taste.  
Preheat the cast-iron skillet or BBQ on medium heat. Grill the fish to make it tender, turning only once for about 3 minutes on each side. Add extra marinade occasionally while cooking.   
Serve the fish with prepared salad and fresh lime wedges.  
Crispy Sweet Potatoes With Chickpeas & Tahini Yogurt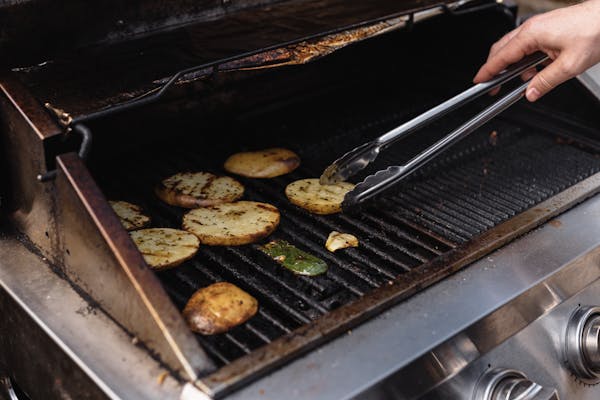 Here is a grilling recipe that will make you love the taste of sweet potatoes even more. These BBQ sweet potato jackets are filled with spinach and bean mixture making them a healthy option for your family and kids. Use dairy-free yogurt to turn it into a vegan choice. You'll need the following ingredients to prepare this delicious recipe:  
Sweet potatoes – 4 medium-sized
Olive oil – 4 tbsp 
Garlic clove – 1 large (crushed)  
Banana shallot – 1 (finely chopped)  
Chickpeas – 400g   
Baby leaf spinach and a small bunch of dill (finely chopped)  
Lemon zest and juice of 1 lemon 
For The Tahini Yogurt  
Greek yogurt – 60g
Tahini – 2 tbsp 
Pine nuts – 20g (toasted)  
Pomegranate seeds – 110g   
Method  
Cover the sweet potatoes in foil and roast them directly over the BBQ coals for around 40-45 minutes, as per the size of the potatoes. Check whether they're cooked by inserting a skewer in each one.  
Meanwhile, take a large frying pan and heat 1 tbsp olive oil. Put the shallot and garlic in the hot oil and fry until they soften, for around 2-3 minutes.   
Add the chickpeas and after a minute, add spinach as well. Once it wilts, add the dill.  
Whisk together lemon zest, juice, and the remaining olive oil in a small bowl. Season to taste and add it to the chickpea mixture.  
Slightly crush the chickpeas using a potato masher.   
Mix the yogurt and tahini in another small bowl and season with salt.  
Cut open the potatoes by length and fill them with the bean mixture. Drizzle the tahini yogurt over it. Top with pomegranate seeds and pine nuts.  
Buddy's Potato Salad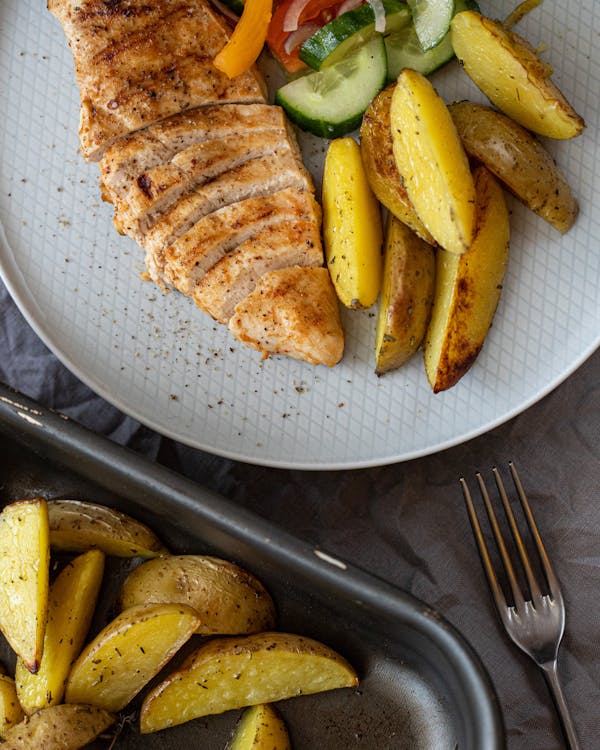 Potatoes are a major item on the BBQ food list. They are the perfect side dish to go with any recipe. There are numerous ways to cook them. You can make roasted, mashed, grilled potatoes or even a potato salad, and each one tastes amazing. Let's look at this simple potato salad recipe here that all your family members will surely love. To make this family BBQ recipe, you need:
Potatoes – 1 kg
Soft herbs – 30g mixed (such as dill, mint, chives, flat-leaf parsley)  
Greek-style yogurt – 2 tbsp 
Lemon – 1
Extra virgin olive oil – 2 tbsp
Method  
In a large saucepan, cook well-scrubbed potatoes in boiling salted water for 15 minutes. Once tendered, drain the potatoes and keep them aside to let them cool.  
Add roughly chopped herbs to a large mixing bowl with yogurt, lemon juice, and olive oil. Mix them well. Add a pinch of salt and ground black pepper while mixing.  
Toss the potatoes in the dressing bowl till they get coated.   
Soy & Butter Salmon Parcels  
These cute little salmon parcels are one of those outdoor BBQ ideas that will help draw attention to your creative culinary skills. The mixed flavor of soy and honey, with the essence of barbecued fish evenly glazed with butter, makes it a top recipe for your next family BBQ. Moreover, the taste of cucumber salad on the side brings a refreshing twist to the fish flavors. The ingredients you need to make these super special parcels are:  
Butter – 2 tbsp
Salmon fillets – 4 pieces of 100g (skinless) 
Soy sauce – 2 tbsp (low-salt)
Honey and sesame seeds – 1 tbsp each 
Spring onions – 2 (sliced)
For The Cucumber Salad  
Cucumber – 1 (sliced)  
Sesame oil – just a few drops 
Method  
Heat the BBQ or the griddle pan.  
Prepare the parcel by applying butter on 4 pieces of foil. Place the salmon.  
Mix soy sauce and honey and pour over the parcels.   
Apply some more butter on top, then fold the foil tightly, wrapping everything inside.   
Cook the parcels over a BBQ or grill pan for around 5-10 minutes or until the salmon gets cooked.  
Then open the parcels and sprinkle some sesame seeds and spring onions.   
Make the salad by mixing cucumber with a few drops of sesame oil. Add salt as per taste.   
Serve the prepared salmon with this salad.  
Chicken Noodle Stir-Fry Recipe  
An all-time favorite and full of vegetable goodness, noodles are the best way to make your kids love different kinds of veggies. And when it also has chicken pieces, what is not to love? Adding the BBQ spirit turns any basic recipe into one that is especially appreciated by all. Even these simple noodles taste super yummy when you cook them over a BBQ. So, try this recipe now with the following ingredients:  
Egg noodles – 2 nests (dried)  
Sesame oil and vegetable oil – 1 tbsp each
Chicken thighs – 3 (skinless, boneless and cut into strips)  
Honey – 2 tbsp 
Soy sauce – 3 tbsp 
Garlic clove – 1 (peel and finely sliced)  
Ginger (peel and cut into matchsticks)  
Chestnut mushrooms – 75g (sliced)  
Tenderstem broccoli – 100g (halved and cut lengthways)  
Baby corn – 100g (thickly sliced diagonally)  
Yellow pepper – 1 (deseed and cut into strips)  
Edamame beans – 150g (pot fresh)
Cashew nuts – 50g (toasted)  
Method  
Boil the noodles. Drain and keep aside.  
Meanwhile, pour the sesame oil into a large pan or wok and heat.  
When the oil becomes very hot, add the chicken and stir-fry until they are golden and crispy, for about 6-7 minutes.  
Add honey and soy sauce. Heat till the chicken gets coated and the sauce starts bubbling.  
Put the coated chicken in a bowl and keep it aside. Wipe the pan using kitchen paper.  
Pour vegetable oil into the pan. Cook ginger and garlic in it for about 30 secs.  
Add the mushrooms, broccoli, baby corn, and pepper, and stir fry for 3-4 minutes. Keep tossing the mixture so that it gets mixed and cooked evenly. Add edamame beans and cashews and cook for another minute.  
Now add the prepared chicken and mix everything.   
Serve it over the boiled noodles.  
Barbecued Doughnut Ice Cream Sandwiches Recipe  
Everyone knows that kids love desserts. Doughnuts and ice cream are the two most loved sweet treats, and when you add raspberry jam, it becomes one of the most delicious desserts for your family BBQ. So, whip up this quick and easy dessert to lighten up your family barbecue evening. You'll need only the three 'most-wanted' ingredients for this recipe:  
Doughnuts – 5 rings
Ice Cream – 400g 
Raspberry jam – 200g 
Method  
Preheat the BBQ to high.  
Cut the doughnut in half and place it on the edge of the BBQ with outsides down. The edge uses indirect heat, because of which the doughnut doesn't burn.   
Roast for 2-3 minutes till you get griddle marks on the outsides. Meanwhile, place ice cream at room temperature for around 10 minutes to soften.  
Using tongs, remove doughnuts from heat and put them on a tray. Keep aside to let them cool.  
Prepare the sandwich by evenly spreading 2-3 small scoops of softened ice cream on the bottom half of the doughnut. On the other half, add a thin layer of raspberry jam.   
Press them together and serve immediately.  
Conclusion  
Spending quality time with your family feels the best when there's good weather and delicious food. Summers are the best time to take any simple ingredient or recipe and convert it into something unique and amazing that is loved by all. So get ready to try these family BBQ ideas at your next party and make it a big hit.   
Latest posts by John Rinder
(see all)