When you know it's Summer time; you cannot resist to start grilling to prepare either some easy BBQ recipes or go all-in to organize a huge feast. The unique BBQ grilling adventure, beach cookouts, plenty of memorable quality time with friends and family, and other events are some of the major reasons why people await the beautiful Summer season.   

Already said so, the zest of preparing a grilled recipe is unparalleled. You can never have enough grilled meat, veggies, or desserts. But here is a twist for all the BBQ lovers out there. What if there are some recipes for you that you might have never even thought of? We've got some unique BBQ recipes for you that'll leave you in awe and make you set up a grill and try these out right away.   
Grilled Figs Stuffed With Goat Cheese   
Who doesn't love cheese, right! Just add it to anything and it can taste amazing.
A very simple yet unique BBQ idea is to grill some cheese-filled figs. This super quick and easy recipe is one of the amazing appetizers to entertain your sudden guests and leave them impressed with your culinary skills.    
You can also prepare some delicious dips to go along with these cheesy figs. So don't wait and get started because it takes only 10 minutes to get this tasty treat ready to eat. You only need the following ingredients:   
Figs – 20 (they should be ripe)
Homemade soft goat cheese – 4 oz
Olive oil and balsamic vinegar – 2 tbsp each
Fresh rosemary – only 1 tbsp (roughly chopped)
Method:   
Remove stems from the figs. Make two cuts on each fig from top to ¾ way down, making an 'X' on it and open the created pocket.    
Stuff the figs with about 1 tsp of goat cheese in each one.   
Preheat the grill covered for 5 minutes.    
Apply oil to the grilling grate and also brush the figs lightly with some olive oil. Place it on the grill.   
Cook on medium heat, covered, for about 5-8 minutes, until the figs become soft and slightly brown.   
Remove from heat and place the figs on a tray. Drizzle some balsamic vinegar and sprinkle some rosemary over it before serving.   
Grilled Spaghetti with Grilled Chicken and Vegetable Skewer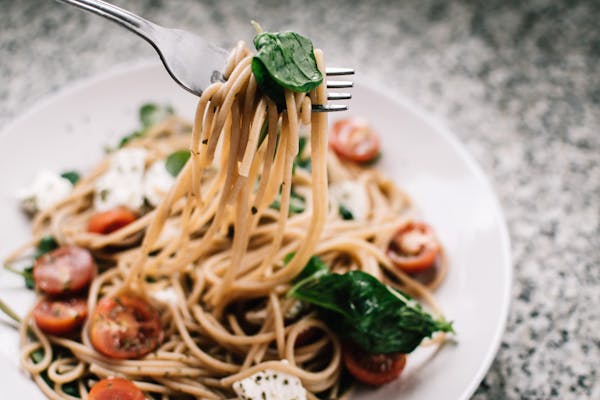 We have all had spaghetti our whole lives but have you ever heard of spaghetti prepared on a grill? I guess not. Well, it's possible. We have this breathtaking recipe for you to let go of the old plain spaghetti routine and try something extremely new and amazing. 
This is one of the patio unique BBQ ideas that is unique but still pretty easy to whip up. It is not just the spaghetti but also the grilled chicken and veggies skewer that makes it even more delicious. All you need for this recipe are:   
8 6-inch skewers (soaked in water)  
Extra virgin olive oil – 5 tbsp divided equally  
Small button mushrooms – 1 packet of medium size   
Chicken thighs – ½ pound (diced into 1-inch pieces)  
Red onion – ½ large (diced into 1-inch pieces)  
Zucchini – 1 (sliced in ½-inch rounds)  
Cherry tomatoes – 1 pint of 
Spaghetti – 1 box    
Garlic – 2 cloves chopped
Fresh basil and oregano – 1 tbsp (chopped)   
Juice of 1 lemon 
Salt and black pepper (to taste)  
Method:   
Boil water in a large pot. Add salt to the seasoning.  
Prepare the skewers by adding chicken and veggies as per your choice and keep aside.   
Boil the pasta. Remove it one minute before the mentioned time in the boiling instructions. Mix with 1 tbsp olive oil and keep aside.   
Put salt and black pepper and drizzle 2 tbsp olive oil on the skewers.    
Cook on high heat over the grill for 4-5 minutes. Then remove and keep aside.   
Put the remaining oil in a small skillet and add the garlic. Cook it over the grill for a minute.    
Place a medium-sized grill basket over the grill and cook pasta in it for 5 minutes. Let the pasta become golden. Remove from heat when it starts a crackling sound.   
Toss pasta, olive oil and garlic mixture, basil, and oregano together. Top it with the grilled skewers and squeeze lemon juice.   
Grilled Huli Huli Chicken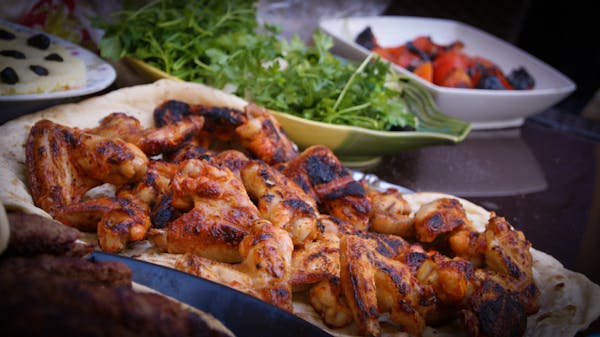 Chicken is one of the most common grilling items and also the most loved by all. There are endless options and possibilities for grilling chicken meat. Whether defrosting chicken in a microwave or using a fresh one, you can never have all the chicken recipes in a lifetime. But as promised, here we have something unique for you.
This is a Hawaiian recipe. The word 'Huli' means to turn or reverse. This recipe is called Huli Huli, as the chicken is turned or rotated many times while roasting. You definitely want to try this now, so gather the following ingredients to start preparing this amazing recipe:   
Chicken thighs – 24, approximately 6 pounds (boneless, skinless)  
Sherry or chicken broth – 1/3 cup  
Brown sugar – 1 cup 
Soy sauce – 3/4 cup (reduced-sodium)
Fresh gingerroot and garlic – 2 tsp each (minced)
Ketchup – 3/4 cup
Method:   
Mix all ingredients in a small bowl leaving aside the chicken pieces. Keep 1-1/3 cups separately covered in the refrigerator to use for basting later.   
Divide the remaining marinade into two, pour half in a large shallow dish and the remaining half in another similar bowl. Now put 12 chicken thighs in each marinade bowl and coat properly. Cover and refrigerate the bowls for a minimum of 8 hours or overnight.   
Take the chicken out and discard the remaining marinade.   
Place a thoroughly oiled rack on medium heat.    
Cover and cook the chicken over it for 6-8 minutes on each side. The inside of the chicken should be at 170 degrees when it gets tendered.   
Baste occasionally after cooking covered for 2-3 minutes.   
Grilled Avocado with Shrimp Salad   
Among all the unique BBQ food ideas you've ever got from anyone in your life, have you ever heard of the avocado-shrimp combination? Yes, that's right. We've got the best of two items together to make this delicious and unique BBQ recipe which requires only the following 5 ingredients:   
Avocado – 1
Shrimp – 1/4 cup (cooked)
Lemon – 1 (half juiced and half solid)
Hoisin Sauce – 4 tbsp
Mayonnaise – 1 tsp
Method:   
Put the shrimp and halved lemon in a skewer. Squeeze the other half lemon in a bowl.   
Grill the skewer for a few minutes. Remove the shrimp and lemon from the skewer once they cool down.   
Take the avocado and cut it in half.   
Remove the seed and brush some hoisin sauce inside the avocado.   
Grill it for 2-3 minutes with the cut side gently placed downwards.   
Meanwhile, mix the remaining hoisin sauce, mayonnaise, and lemon juice in a bowl and season the shrimp in it.   
Fill this seasoned shrimp inside the avocado.   
Grilled Oysters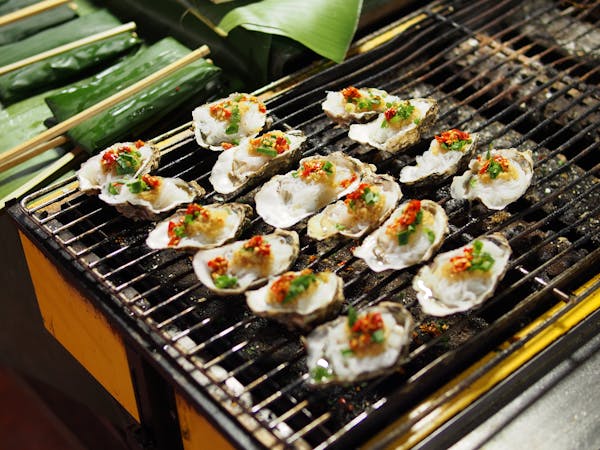 Oysters are among the greatest seafood items, but some people find them a little tricky to cook. There are numerous ways to cook oysters, but here we have a unique and easy option for you; to grill them.   
Grilling an oyster is evidently possible. Moreover, it does not require any major ingredients and also tastes super delicious. Don't believe me? Then try it out on your own. You just need 3 dozen large oysters and some garnishing ingredients such as herb butter, lemon wedges and hot sauce.
Method:   
Scrub the oysters and place them on a grate over the grill, cupped side down.    
Cover and grill them until the oysters start opening. It will take around 2 minutes. Then put it aside on a platter. Discard the ones that didn't open.   
Once they cool, pry open the shells using an oyster knife or screwdriver. While doing so, keep the cup side down and retain the maximum amount of liquid.   
Then cut the muscles connecting oysters to shells with the help of a paring knife or oyster knife.   
Serve it warm with lemon wedges, hot sauce, and herb butter.   
Conclusion   
There are endless ideas and food items that you can cook. All you need to know is the right ingredients and the right way to grill them. Even more so, you can always combine different meats or veggies to experiment with some unique BBQ recipes on your own. But to do that, you must first be at the stage where you know all the flavors and textures of different kinds of ingredients so that the experiment does not backfire. 
Till then, let us help you get started. Fire up your grill, gather around your buddies, and host an amazing party with these flavorful and surprising recipes. Enjoy the Summer and make the most of it because this is the time to live and eat. These unique recipes are a must try and so much easier that you can prepare them even if you're a beginner at grilling.  
Latest posts by John Rinder
(see all)