The most important rule to consider when pairing wine is to match the drink options to the people and settings, and everything else will fall into place. As much as a host believes that a certain prestigious or expensive bottle is the best wine for BBQ, the circumstances of the event may dictate otherwise and could make the combination work against each other. The best advice we can give is to start with the type of event and the style of the guests and then match it with the food as a secondary step.

The pairing for the style of the event itself can help make decisions. For example, move towards direct pairing with the dishes being served and increase the quality of the smaller, more focused group.

Generally, when pairing something as traditional and integral to home cooking culture as barbecue, go for simple, approachable styles that sit comfortably alongside plates of sweet and smoked ribs and crisp coleslaw. This will create an unassuming but reliably delicious final result. 

As with any style of food, there are no wrong answers to food pairing, but there are definitely better choices than others. For example, there are several well-known styles of American barbecue, which is the easiest format to discern the best wine for BBQ.
Smoked Brisket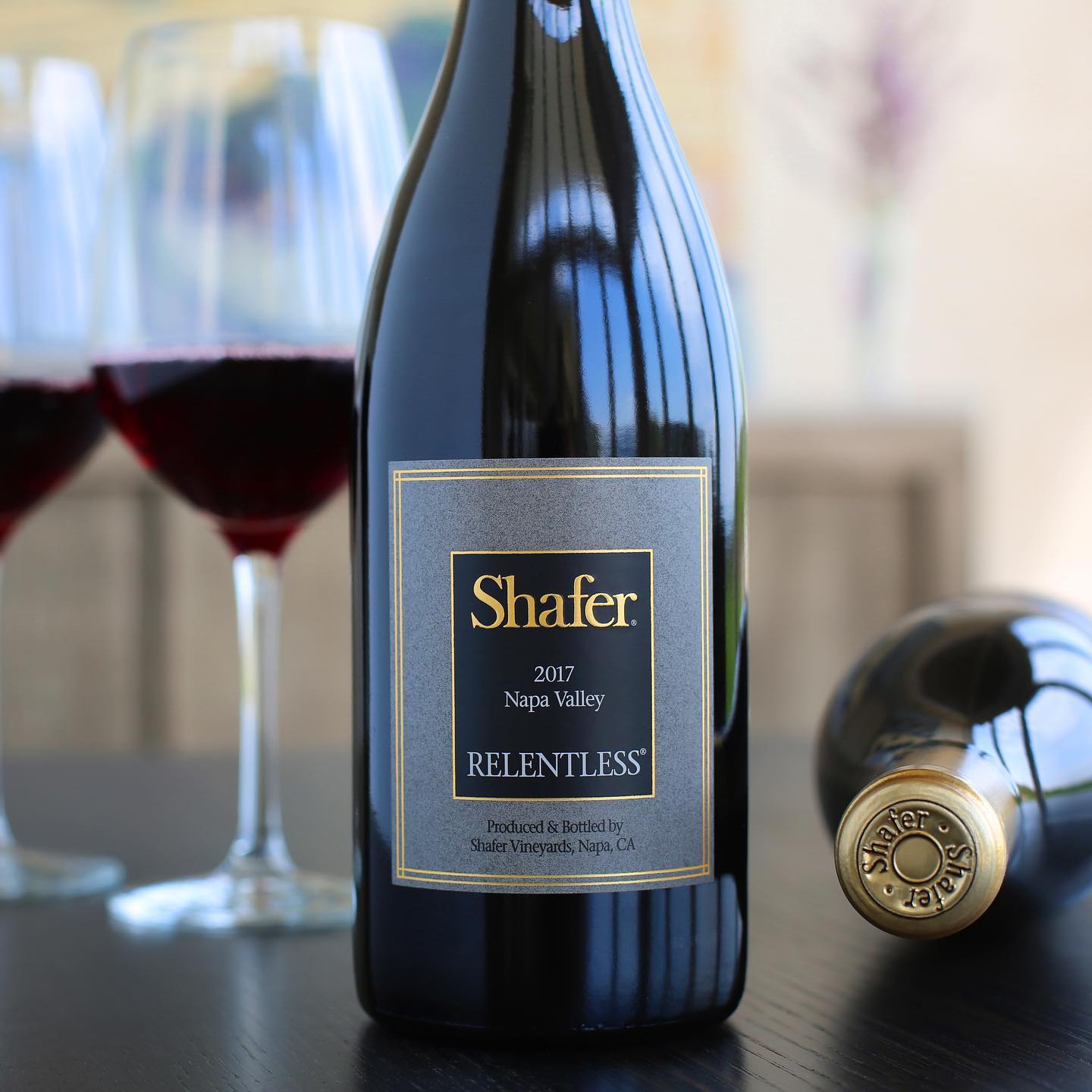 A properly smoked brisket is one of the classic BBQ foods and pairs well with a variety of wines. People who love to prepare BBQs at home need to wake up early and get their brisket in the smoker at least 12 hours before the meal. The results of this effort are the perfectly grilled brisket that needs to be paired with the perfect wine. The Shafer Relentless 2018, a blend of Syrah and Petite Sirah, is great to pair with smoked brisket. It's powerful enough to be paired and enjoyed with smoked meat.  
Rosé wines can be intense or dry, so they pair well with a variety of foods that are a little lighter than those that mix well with red wines. So try pairing rosé Pinot Noir or rosé Syrah with salmon or smoked foods and offer your guests the best red wine experience.
Best Wine for BBQ Ribs 
Ribs are a staple food among American meals, and wine pairing with BBQ ribs can be challenging for people. To work with smoked ribs, you need a wine with a touch of sweetness without being actually sweet. The Tenuta Sant'Antonio Amarone Della Valpolicella 2017 is perfect to pair with smoked ribs. The wine has glorious flavors of red licorice and Amarena cherries combined with Chinese five spice powder. With only 15% alcohol content, it would be good to consume smokey ribs.  
If you are serving dry ribs, it is important to know that the flavor of every spice is different. However, from sweet versions to savory ones, a California Zinfandel will deliver a good pairing possibility. In addition, the Frank Family Vineyards Napa Valley Zinfandel is made with smashed fruits and candied violets, which are another perfect combination to serve with smoked ribs. Know more about how to smoke ribs perfectly.
Beef or Red Meat 
Beef is a commonly used meat for preparing a variety of BBQs. Choose a powerful red wine with lots of tannins and good acidity to serve with grilled red meats. A strong red wine goes perfectly with grilled steak, hamburger, or beef brisket. Red wines like Tempranillo, Cabernet Sauvignon, Malbec, or Syrah, go very well with grilled red meat.  
Steak 
 A perfectly grilled steak combined with a rich structured red wine can be one of the best food pairings. The wine's tannins and acidity dissolve the fat and protein, which subsequently softens the harshness of the steak. If ever there was a virtuous cycle, this is it. A standout red wine from Chile, the Don Melchor Cabernet Sauvignon 2019 from Puente Alto is regarded as one of the best in the world. 
It is rich and generous, with a smoky sage and forest floor serving as a base for mixed currants, cedar, and undertones of sandalwood as they linger for a while. The Paring Red Blend 2017 combines Cabernet Sauvignon, Merlot, Cabernet Franc, and Petit Verdot and delivers currants, orange oils, and hints of coffee and vanilla if you don't want to spend quite that much. 
Try a stronger and/or spicier wine like Malbec, Syrah, or Shiraz. With their silky qualities, these wines complement the strong flavor of the steak and can tone down and accentuate the spiciness. When it comes to grilling, a good piece of Malbec beef is probably one of the tastiest food and wine pairings you can get. Check out how to grill a perfect sirloin steak.
Vegetarian BBQ + Rosé Wine
Barbeques are not merely for non-vegetarians. The vegetable grilling is especially ideal for veggie lovers since it is earthy and rich with a textural crunch. Consider the region of origin, the flavors, and the textures when choosing a wine to go with barbecued vegetables. 
Merlot, Grenache, Pinot Noir, and Nero d'Avola, are light to medium-bodied, savory red wines that go well with asparagus, while Sauvignon Blanc or a Sauvignon Blanc Semillon combination offers herbaceous notes that go well with green vegetables in general.
Grilled vegetables and vegetarian dishes can vary in their flavor profile. If you want a wine that goes well with many types of grilled vegetables, choose a rosé wine. Cool, refreshing rosé wine is a highly versatile drink that you can definitely pair with grilled veggies as well as tofu.
You can also serve red or white wine with grilled vegetables. Grilled pickled vegetables can take on an almost meaty texture and taste. A versatile, medium-bodied red wine like Merlot or Sangiovese is a good match for most vegetables. Grilled mushrooms go well with red wines like Pinot Noir. 
Pork Chops 
Pork chops are a particularly versatile dish that pairs well with a variety of wines. If you wonder what wine goes with pork, both white and red wine combines well with pork. Many people prefer red wine with pork chops. Pinot Noir goes well with pork chops. Other great pairings are Valpolicella or a German Riesling. Try them all and choose the one you like the most. Know more about how to grill pork at home before pairing it with a glass of wine.
Salmon 
Finding a bottle with enough savoriness to go with the fish is important as salmon and Pinot are a classic match. This is because grilling is an inherently high-heat cooking method. As mentioned earlier, fish goes best with lighter white wines.  
Because of this, the Russian River Valley's Dutton Goldfield Dutton Ranch – Emerald Ridge Vineyard Pinot Noir 2019 is a great choice. A vibrant tongue vibrating with red fruit, including cherries, cranberries, and pomegranate, as well as blackberries, is preceded by a beautifully elevated aroma of red cherry and rose water. 
Delicious Sangria 
If you're not ready to switch completely from beer to wine at your next barbecue, consider sangria as an alternative. The sangrias are refreshing and contain fresh fruit with the wine. They are easy to drink and visually appealing. Sangria is the perfect drink that everyone enjoys without being overwhelmed with the bitterness of wine.  
Sangria With Red Wine 
Try a sangria made with red wine, brandy, fresh summer fruits, and plenty of ice cream with grilled specialties like ribs or roast chicken. The sweet drink will complement the meat sauce.
Sangria With White Wine 
Another sangria recipe to try uses white wine, diced melons like cantaloupe and watermelon, strawberries, and raspberries. Add ginger ale to it, and you have a drink that goes well with grilled fish or chicken.
Things To Consider While Pairing Wine 
When selecting the best wine for BBQ foods, it is crucial to consider the marinade or rub used in the recipe. Many marinades and rubs contain spices and vinegar, which can make pairing them with wine challenge. As a general rule, pair the sweeter, richer, and more tannic red wines you find with steak. Shiraz, Pinot, and Grenache are a few examples of red wines with delicate tannins that go well with the spicy rubs.
The amount of flavor given to the food will also depend on the cooking technique. When grilling over an open flame, you will often require a deeper red or white because it will add a greater smoke and char flavor. With slow cooking methods like a rotisserie, you receive a mild smoke flavor instead of the influence of char marks. Foods cooked with this method can pair well with lighter wines.
Summing Up 
These were some of the best combinations of BBQs and wines. With different wines for a variety of foods, the combinations are endless. Don't hesitate to try other wine combinations with summer barbeques, as wine pairing should be a pleasurable and enjoyable experience. If you want to play safe, you may always follow the rule of thumb "the deeper the BBQ, the deeper the wines." For example, rose wines pair well with lighter foods, while red wines go well with smoked briskets. Following the tips in this post can help you pair your BBQ foods with the best wines and offer your guests a great dining experience.
Latest posts by John Rinder
(see all)