The star of any Summer bbq might be ribs, burgers, hot dogs, or burgers, but the smoked side dishes also have a starring role. Side dishes for bbq help enhance the event you're throwing, have guests ranting about your well-cooked foods, and create a memorable time. So go ahead, set down ribs and pork for a moment, and check out our side dishes for your Summer barbecue.

If you are looking for something different, why not try grilling fruit? Or, if you want to be adventurous, try making mojito or sangria. In this guide, find out the best bbq side dishes to lighten up your delicious bbq foods.
The Only Basic Pasta Salad You'll Ever Need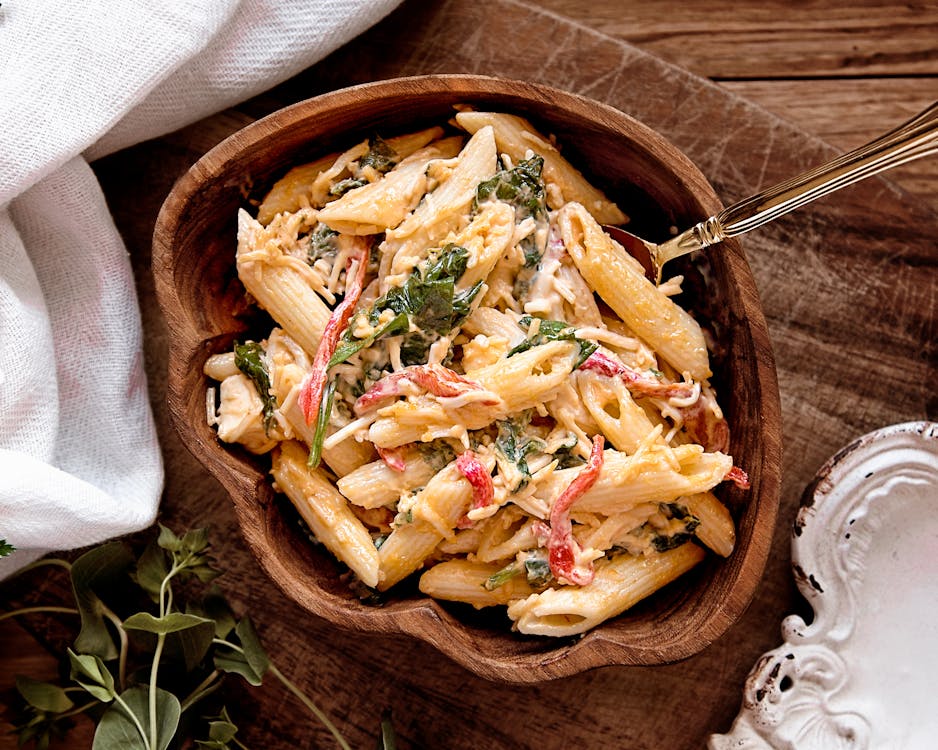 A solid bowl of pasta salad at bbq is like a bass riff in a country song. It might not get all the attention, but everyone would notice if it were missing.   
When it comes to pasta salad, there are various ways to be innovative, but sometimes it's best to go with classics. So, the best classic to serve is the classic Italian-style pasta salad. Let's get started:  
Ingredients:  
For the Dressing  
1/2 c. red wine vinegar  
1 tsp. Sugar  
2 tbsp. Dijon mustard  
1/4 c. olive oil   
For the Salad  
1/4 red onion, thinly sliced  
14 oz. fresh mozzarella, torn  
2 tbsp. chopped capers  
1 orange bell pepper, sliced  
1 pt. grape tomatoes halved  
4 oz. cured salami, such as Soppressata, chopped  
1 tbsp. chopped fresh oregano  
2 tbsp. chopped fresh flat-leaf parsley 
1 lb. rotini pasta  
3/4 c. chopped marinated artichokes  
1/3 c. pitted kalamata olives, chopped  
Directions:  
Bring a saucepan of salted water to a boil. Pasta should be added and cooked as directed on the package.  
In the meantime, combine sugar, oil, mustard, vinegar, and mustard in a basin. Add onions and the remaining dressing to a large bowl, and stir to combine. While the pasta cooks, let it stand.  
After draining, add the pasta to the onion mixture and toss until the liquid is absorbed. Until the room temperature cools.  
Add the remaining dressing, along with the bell pepper, tomatoes, artichokes, olives, salami, capers, parsley, and oregano, and toss to combine. Add mozzarella and fold.   
That's it! Your classic pasta salad is ready! Serve with more parsley on top.  
Toasted Seed Coleslaw  
Another must-have side dishes for bbq is made from some extra flavor and crunch from four different kinds of seeds. Let's get started:  
Ingredients:
1/2 tsp. cumin seeds  
2 tbsp. mayonnaise  
2 tbsp. sour cream  
1 tsp. distilled white vinegar  
Kosher salt and freshly ground black pepper  
1/2 tsp. caraway seeds  
1/2 tsp. celery seeds  
1/2 tsp. coriander seeds  
1 small head (about 1 pound) of green or red cabbage, cored and thinly sliced (about 8 cups)  
Directions:  
In a small skillet over medium heat, toast the seeds for 1 to 2 minutes, frequently stirring to keep the seeds toasty and fragrant. Use a meat mallet to smash after transferring to a chopping board lightly.  
In a bowl, combine the seeds, mayonnaise, sour cream, and vinegar. Add salt and pepper to taste. Fold in cabbage. You may make cole slaw up to two days in advance.  
Further, use green or red cabbage to enhance the dish. This slaw will be crunchy the first day you make it and soften with time. So, plan according to your preferences.   
Fresh Summer Peach Relish  
Serve this bbq side dishes as a part of your delicious desserts for your Summer bbq.   
Here's what you need:  
Ingredients:  
1/4 c. fresh lime juice  
1/2 c. fresh basil, thinly sliced  
2 ripe peaches, chopped  
Kosher salt  
1/2 small red onion, finely chopped  
1 tsp. pure honey  
Directions:  
Whisk together honey and lime juice in a bowl. Add season and onion with salt. Wait for 5 minutes. Then, add basil and peaches and stir them to combine.   
That's it; your healthy bbq sides are ready to be served!  
Cucumber and Cilantro Yogurt Sauce  
Severe this cool yogurt sauce with smoked ribs! Here's what you need:  
Ingredients:  
3/4 c. plain yogurt  
Kosher salt and black pepper  
3/4 tsp. cumin  
3/4 tsp. ground coriander  
2 tbsp. chopped fresh cilantro  
1 chopped scallion  
1/2 seeded, coarsely grated, and peeled English cucumber  
Directions:  
Combine coriander, cilantro, scallion, cucumber, cumin, and yogurt in a bowl. Then, season it with black pepper and Kosher salt.   
That's it! Your creamy sauce is ready to be served bbq delicious foods.   
Grilled Apples with prosciutto and honey  
Another easy side dishes for bbq is to make the most out of fresh fall fruit.   
Ingredients:  
Canola oil for grill grates  
Pure honey, for drizzling  
4 tsp. chopped fresh thyme  
1/4 c. chopped salted pistachios  
1 (3-ounce) log goat cheese, crumbled  
3 oz. thinly sliced prosciutto  
Kosher salt and ground black pepper  
2 tbsp. olive oil  
1 large honey crisp apple, cut and cored cut into twenty-four 1/8-inch slices  
Directions:  
Grill to a medium heat setting. Once hot, clean it with canola oil and the grill grates.  
Apply olive oil to the slices of apples. Add salt and pepper to taste. Evenly divide the prosciutto before wrapping.  
Cook uncovered over direct heat for 3 to 4 minutes, rotating once or until grill marks emerge. Place on a serving dish and beautify it with goat cheese, pistachios, and thyme.   
Serve this delicious side dish with topping honey to the dish!  
Rainbow Vegetable Skewers  
Raise your hand if you've ever tried to grill a vegetable skewer and completely scorched it (Guilty.) This is because cooking a variety of vegetables on the same kebab will cause them to cook in different ways, with the smaller, thinner vegetables frying more quickly. Since there is only one ingredient per skewer, these rainbow veggie skewers will roast to perfection. Plus, they can be prepared in just about an hour. 
Let's get started making this perfect side dish:  
Ingredients:  
Lemon-Parsley Dressing  
⅓ cup freshly squeezed lemon juice  
Salt and freshly ground black pepper  
1 pinch of cayenne pepper  
¼ cup chopped fresh parsley  
¾ teaspoon garlic powder  
½ cup extra-virgin olive oil  
1 tablespoon Dijon mustard  
Zest of 1 lemon   
Skewers  
3 red onions, cut into large pieces  
2 tablespoons chopped fresh parsley  
Salt and freshly ground black pepper  
1 eggplant, cut into large cubes  
2 zucchinis, sliced  
2 pints of cherry tomatoes  
4 orange bell peppers, cut into squares  
2 squash, sliced  
Directions:  
For Lemon-Parsley Dressing   
Whisk the lemon juice, lemon zest, and Dijon mustard together in a medium bowl. Olive oil should be added gradually while being well-blended. Add the parsley, cayenne, garlic powder, salt, and pepper to taste.  
For the skewers  
Squeeze two skewers with the red onions on them tightly. Repeat with the remaining vegetables.  
After seasoning with pepper and salt, brush the skewers on both sides with the dressing. Cook in batches on a hot grill or pan for 3 to 5 minutes per side or until beautifully browned.  
 Add parsley as a garnish. The extra dressing should be served on the side.  
Introducing the New Caprese Salad  
Few things are more gratifying than a plateful of fresh mozzarella cheese and juicy tomatoes. The anomaly? Our upgraded Caprese salad with grilled zucchini. In essence, it is Summer on a plate.  
Ingredients:  
2 large zucchinis, halved  
1½ tablespoons balsamic vinegar  
8 ounces fresh mozzarella, thinly sliced  
Salt and freshly ground black pepper  
½ cup torn basil leaves  
3 medium tomatoes, sliced  
3 tablespoons extra-virgin olive oil, divided  
Directions:  
Get your grill ready. In the meantime, drizzle the zucchini with around 1 tablespoon of olive oil. Add salt and pepper to taste.   
After the grill has heated up, cook the zucchini for 2 to 3 minutes per side or until it is soft. Allow it to cool a bit.  
To assemble the dish, place alternate slices of mozzarella and tomato on top of each piece of zucchini. Add some fresh basil.  
Pour the remaining olive oil and balsamic vinegar over the salad. If necessary, add more salt and pepper to the dish. Serve right away.  
Conclusion  
BBQ always seems to make people think of Summertime picnics and cookouts. While meats are the star of the show when it comes to BBQ, the side dishes can often be just as memorable. So when planning your next BBQ, be sure to include some of these crowd-pleasing side dishes.  
For a classic picnic dish, try a cold potato salad. Potatoes pair perfectly with the smoky flavors of BBQ, and the salad will stay nice and cool even on the hottest Summer day. Another great option is crisp coleslaw. The crunch of the cabbage and the tangy dressing will balance out the richness of the BBQ. Or, for something a little different, try grilled fruit. Grilled pineapple or peaches are a delicious way to top off a BBQ meal.  
No matter what you choose, these easy side dishes will complement your BBQ perfectly. So, fire up the grill and enjoy!  
Latest posts by John Rinder
(see all)